On October 11, 2015, we presented the Ezra Charles concert – "The Story of Boogie Woogie".  It was a spectacular event and a benefit concert to raise funds for Omar's headstone.  The stone was set that morning. And Dr. John Tennison provided beautiful commentary about Omar Sharriff at the concert.  Click here to read Dr. Tennison's tribute.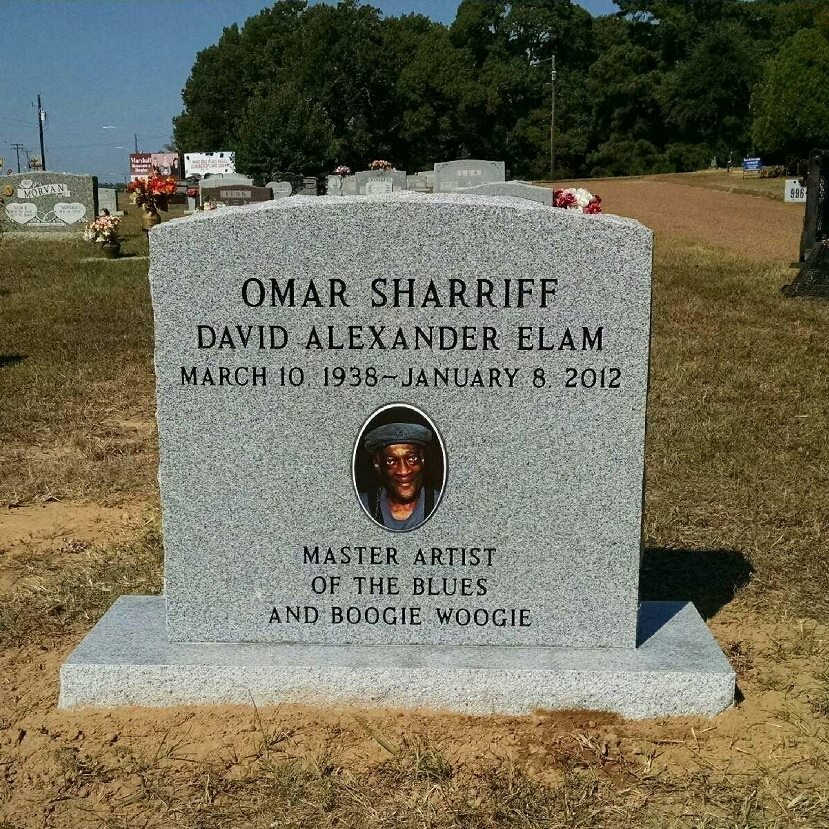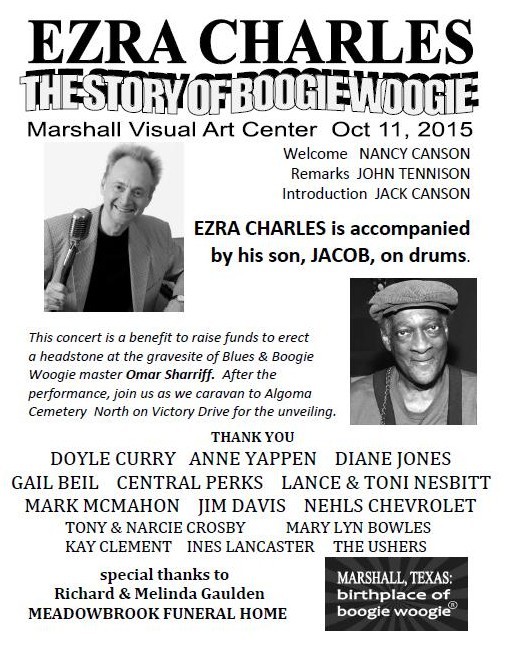 Omar Sharriff, also known as Dave Alexander, born Dave Alexander Elam in Marshall, Texas on March 10, 1938, died at his home in Marshall on Jan. 8, 2012.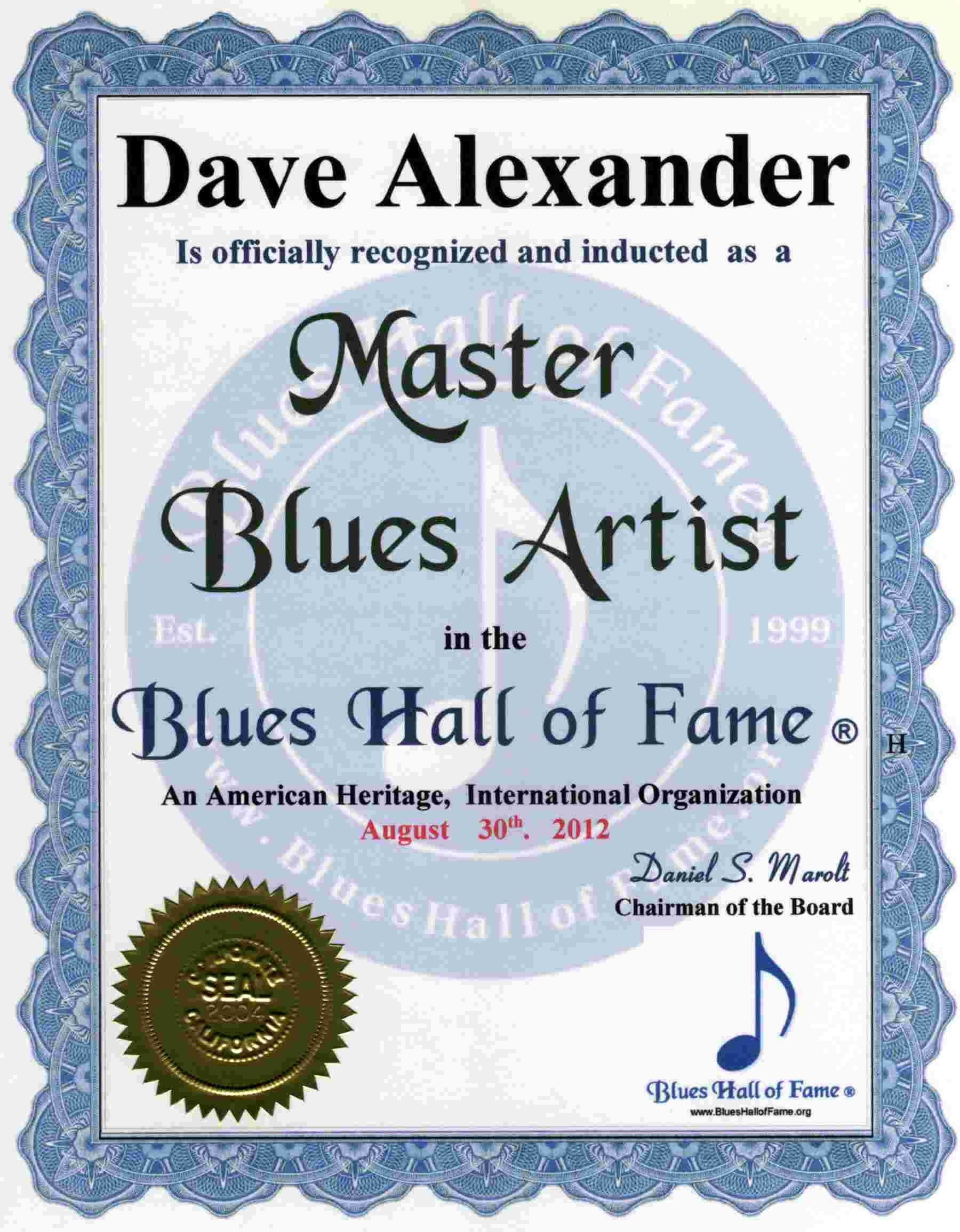 Omar Sharriff Obituary from Living Blues Magazine
Tuesday, Jan. 10, 2012. This article about the passing of Omar Sharriff appeared in our local paper.
Fans across the nation mourn Omar Sharriff
Sunday, Jan. 8, 2012. We are heartbroken to report that Omar Sharriff died today. We will provide more information when we can.  Our hearts are broken. We love you Omar.  Rest in peace.
Omar Sharriff, in his own words – an interview for "Living Blues" in 1994  Omar Sharriff – "Living Blues" Magazine 1994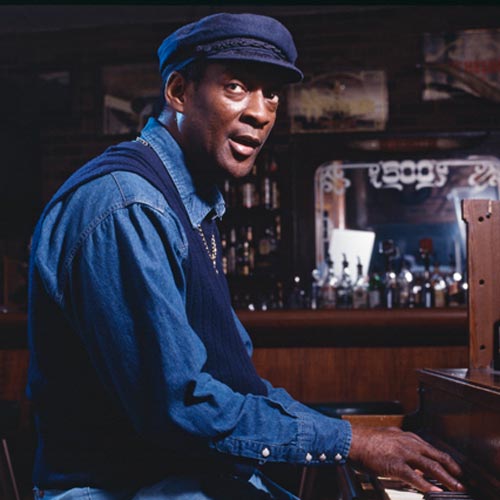 Boogie Woogie and Blues legend Omar Sharriff, formerly Dave Alexander, has an extraordinary story. Born in Shreveport and raised in Marshall, Sharriff left Marshall in 1953 and never looked back. In 2010, music historian Dr. John Tennison located Sharriff in Sacramento, and invited him to return to Marshall. Sharriff thrilled audiences at concerts in Marshall in June and December of 2010. City officials asked Sharriff to return to live permanently in Marshall, and on February 20, 2011, Omar Sharriff moved back to his hometown to be Marshall's Artist in Residence. On March 12, 2011, he performed at The Boogie Woogie Ball to Benefit Marshall Main Street. The spectacular concert, held at the Marshall Grand, formerly the Hotel Marshall, raised $5,158, and marked the beginning of an annual event: The Boogie Woogie Ball will be back for years to come. We are thrilled to have Omar living in Marshall. He is performing constantly (check our Calendar page) and every Thursday night at the OS2 from 8 to 10 pm. Only in Marshall, Texas: the Birthplace of Boogie Woogie.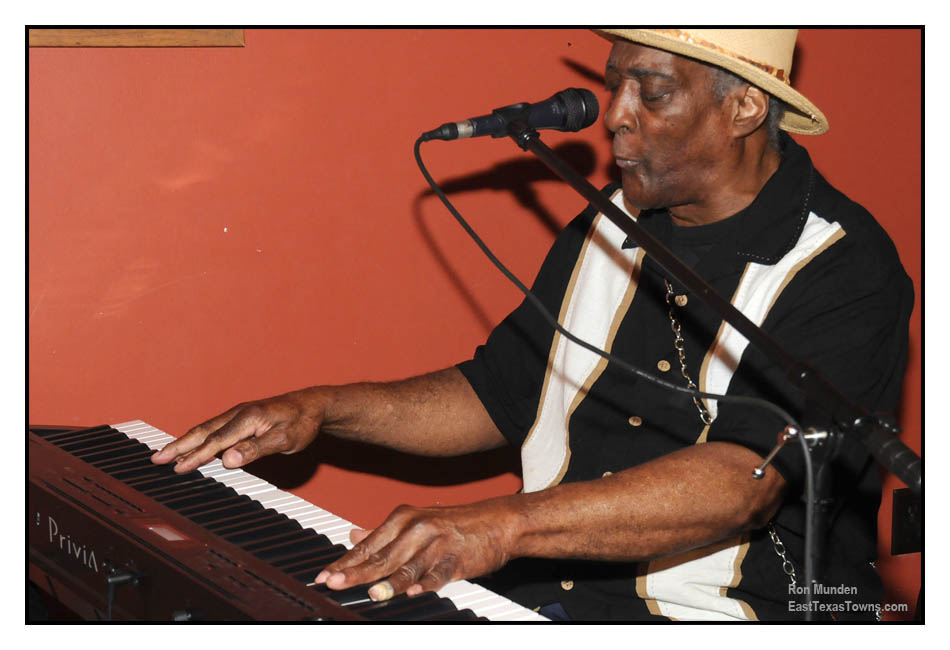 Omar Sharriff, the last living link to the creators of Boogie Woogie
By Jack Canson
Omar Sharriff was born David Alexander Elam in Shreveport, March 10, 1938, to Susie and Tom Elam. The Elams were in Shreveport only briefly and relocated to Marshall while Dave was an infant. Music was in his blood. Old friends from his school days at Pemberton High say they can't remember Dave ever wanting to be anything but a musician.
His father, Tom, played guitar and piano. Omar says that the first time he ever heard Boogie Woogie music, his father was playing it. At first, Omar played the drums and sang in choirs. But the sound of Boogie Woogie piano kept stirring him. There was no piano in the home and even if there had been his mother would not have let him play anything but church music.
There was a piano in the church his mother attended. Determined to learn to play, Dave found that he could use his pocket knife to jimmy the door and slip inside when no one was around. There, his musical self-education began – learning to play "the devil's music" in church. In an interview with Living Blues magazine, Dave remembered, "Two, three times I got caught, and I got the daylights whupped out of me. I guess that made me more determined."
Dave listened to a radio show every night that played Albert Ammons' "Swanee River Boogie" as a theme song and dreamed of becoming a successful piano player. "All the things I ever heard that I liked was on piano."
He decided he would do whatever it took to become a professional Boogie Woogie player at a free concert in the Pemberton auditorium put on by Floyd Dixon and Amos Milburn. Dixon was a Marshall native who often returned to his hometown to play for friends and at Pemberton. Milburn, from Houston, was the nephew of Pemberton High's Principal, G. A. Rosborough. Both Dixon and Milburn were well-established artists. Dixon wrote "Wine, Wine, Wine" and "Hey, Bartender" among other standards, and was the piano player who influenced a young Ray Charles to stop playing like Nat King Cole and adopt a Boogie Woogie style. Milburn was best known for his "One Scotch, One Bourbon, One Beer," and "Chicken Shack Boogie." Fats Domino called Amos Milburn his most important influence.
After that concert, Dave decided he needed formal instruction. Mrs. Ella Maye Willis gave him his first and only piano lesson. "She taught me all about Middle C," he said. "Once I had that, I figured I could work out the rest of it on my own."
By 1952, Dave had learned to play two or three Boogie Woogie numbers and began working the house party circuit around Marshall. In 1954 Dave and several of his friends formed a band and played their first professional gig in a Longview nightclub. The great Blues guitar legend, T-Bone Walker, who hailed from the little town of Linden, just north of Marshall, saw Dave performing and took him on the road with him.  Dave continued to play around the area, hitch-hiking to jobs, until he left Marshall in 1955 for Oakland, California.
After "rattling around and struggling" from one club to another between the Bay area and Sacramento, his playing settled into his own unique Blues style, one that is strongly based in Boogie Woogie but with serious jazz overtones. Recording and performing as Dave Alexander, he became a fixture at Minnie's Can Do Club in San Francisco where the legendary music impresario and manager, Bill Graham, became so impressed with him that he became his personal manager and booked him with performers such as Big Mama Thornton, Albert King, and Nina Simone. By 1975, when Contemporary Keyboard Magazine listed its top three piano players, they were Ray Charles, Mose Allison and Dave Alexander. Bill Graham booked young Dave to play piano during the dinner concert at "The Last Waltz",  starring The Band and many other luminaries in 1976.
After being severely wounded by gunfire, Dave Alexander changed his name to Omar Sharriff. "I wanted a name that was big and flashy," he said, "and that was my favorite movie star so that's what I decided to call myself."
Ironically, his given name, Dave Alexander, came from his father's good friend, a Shreveport Boogie Woogie piano player named Dave "Black Ivory King" Alexander. That Alexander was one of the three musicians (along with Pinetop Williams and Dave Sessom) that Huddie "Leadbelly" Ledbetter recalled inspired him to start playing Boogie Woogie bass lines on his guitar after hearing them around 1906.
Omar's father, Tom Elam, was not only a Boogie Woogie piano player, he worked as a mule skinner in the logging camps around Marshall where Boogie Woogie was born in the barrel houses. Given Tom Elam's close friendship with pioneering Boogie Woogie player Dave "Black Ivory King" Alexander, and his experience working in the turn-of-the century logging camps, it is likely that Tom Elam learned to play Boogie Woogie from men who had been either present at the beginning or had themselves learned from men who were.
It almost seems preordained that the man who now goes by Omar Sharriff would spend his entire life playing Boogie Woogie music. He was named at birth for one of the earliest Boogie Woogie players and grew up listening to his father play the music of the barrel houses where he worked.
Omar Sharriff is truly a living link to the generation that created Boogie Woogie. And he is the last professional alive playing Boogie Woogie music with those connections.