We started producing the Boogie Woogie Wednesday series in October, 2010, and it has become a wonderful weekly celebration in Marshall. The music and dancing is joyous, sometimes boogie woogie, sometimes just great dance music that shows a boogie woogie spirit. Boogie Woogie influenced all kinds of music -swing, blues, jazz, country, soul, pop and rock and roll, and we celebrate this every Wednesday. It's become the hottest night of the week at a lovely downtown restaurant called the OS2 – from 7 to 9 pm every wednesday – no cover charge – reservations are recommended at 903.938.7700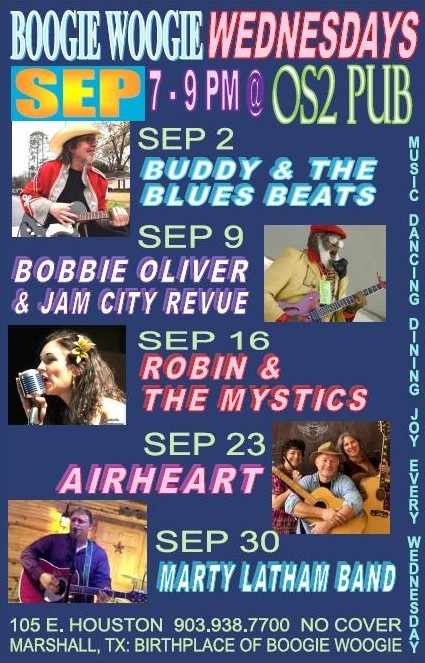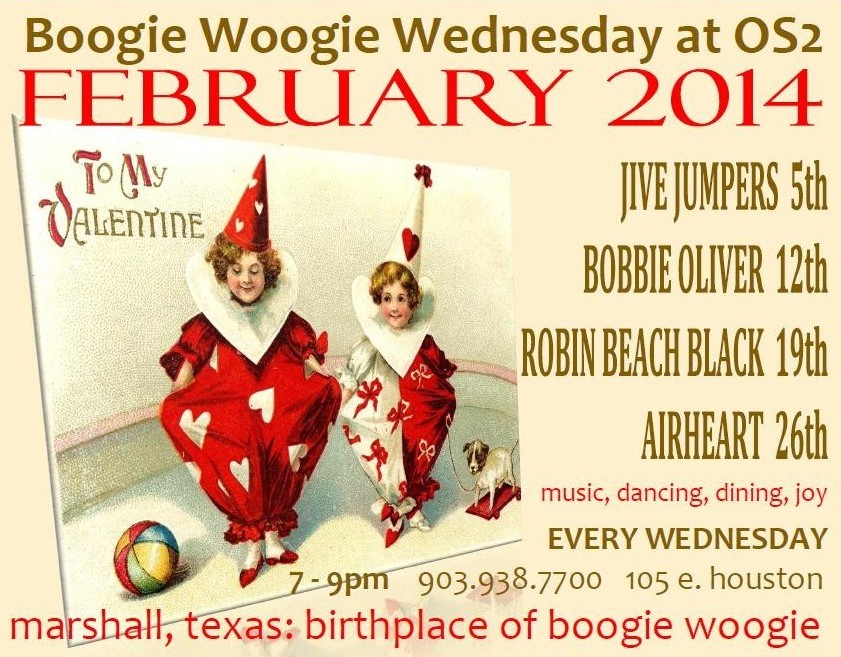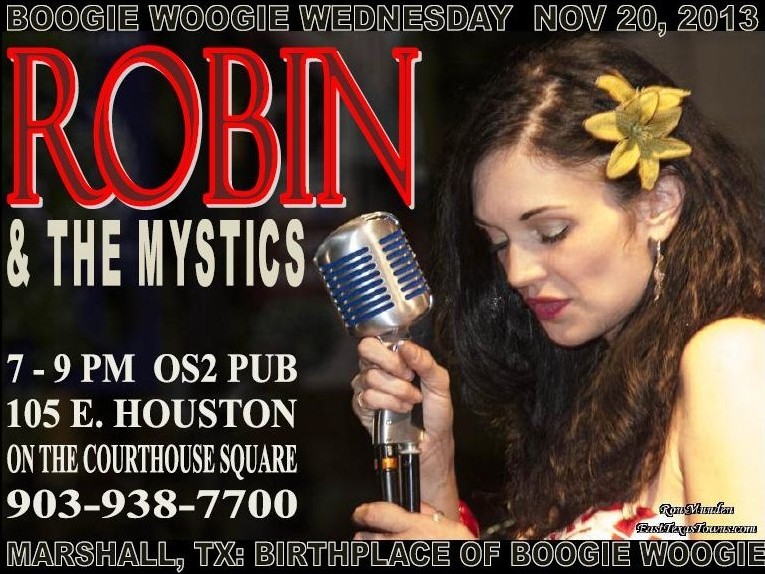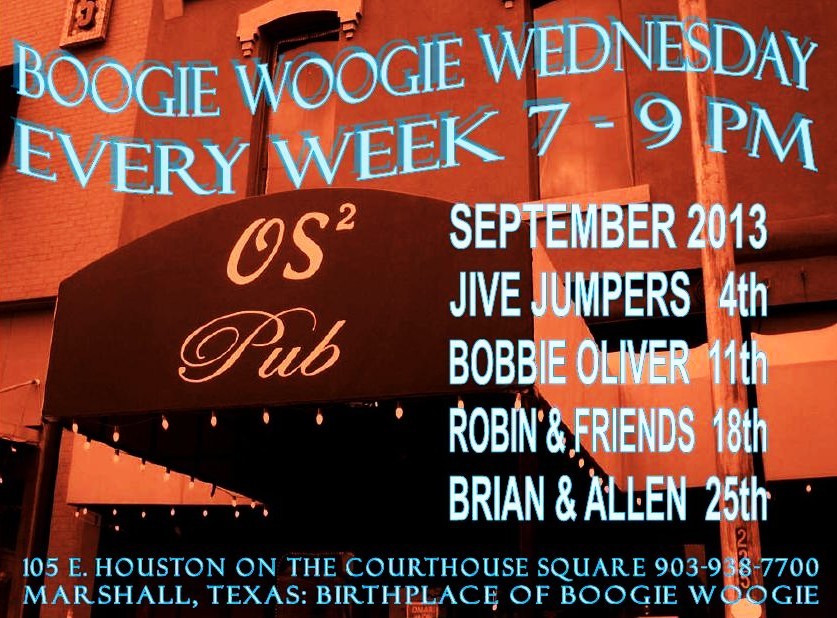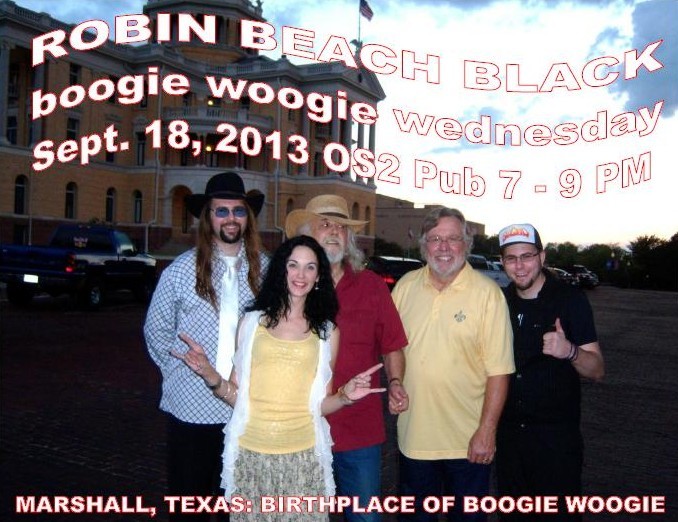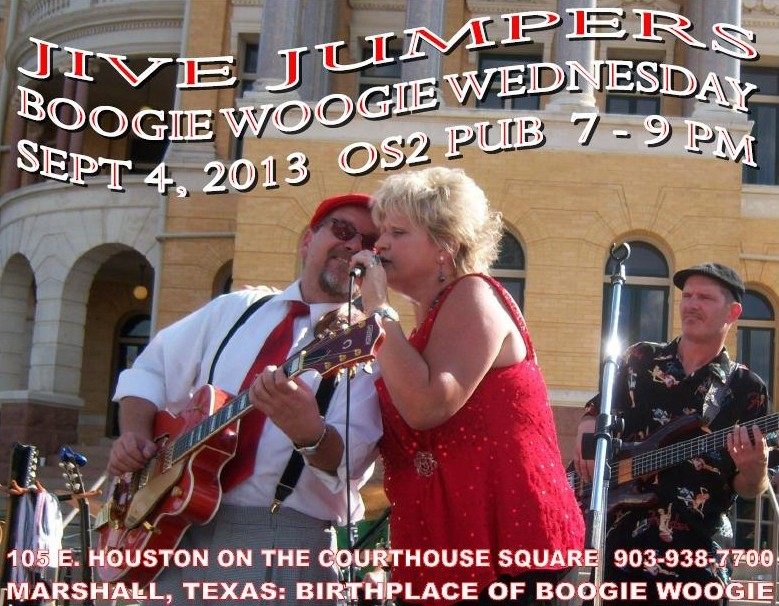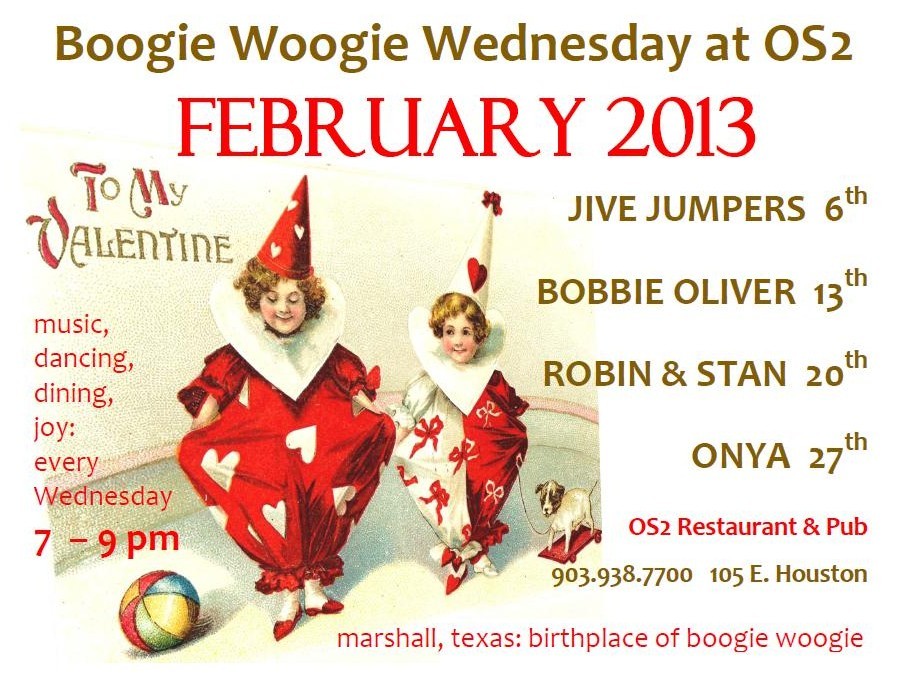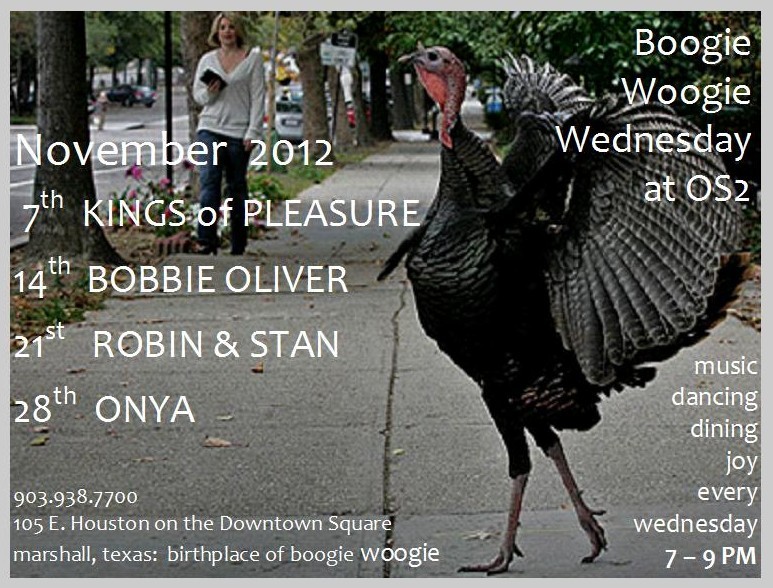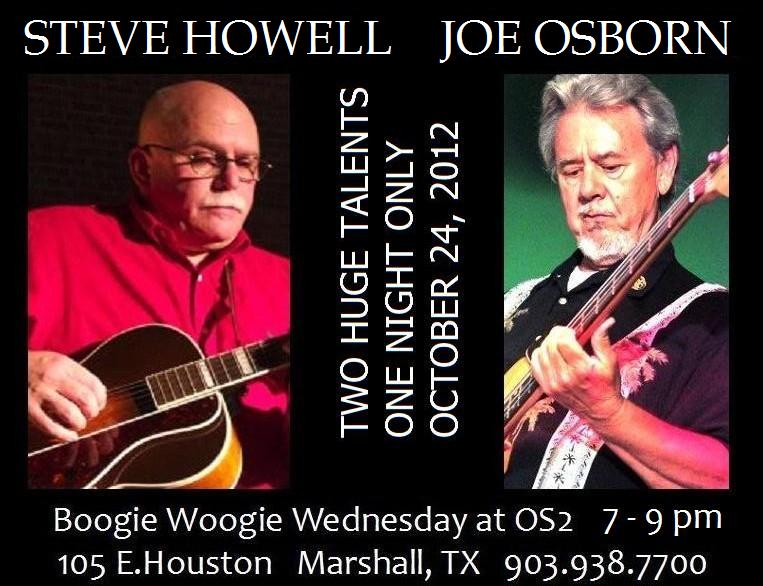 Two huge talents, one night only. Reservations are recommended at 903.938.7700, and please arrive early if you're ordering dinner.
Here is some background on Steve & Joe:
Steve Howell is a fingerstyle guitarist with a penchant toward country blues, traditional jazz and American music. Steve's third CD, "Since I Saw You Last," was awarded the Academy of Texas Music's Historical Significance Award in 2011. His three CD releases – "Out Of The Past" (2005), "My Mind Gets To Ramblin'" (2007) and "Since I Saw You Last" (2009) have garnered critical acclaim in the United States and overseas. Regularly found in the XM/Sirius Bluesville Channel's rotation, he has, over the past forty years, performed for audiences from Texas, Arkansas, and Louisiana to Oregon and Great Britain. "Steve Howell brings a scholarly passion to his music and it is a delightful education, but there is nothing professorial about the performances. Thanks to his broad vocabulary on acoustic guitar, the Texas-born Howell swings and rocks even in these sparse arrangements, and his interplay with bassist Joe Osborn is a treat." – Associated Press, 2008, CDs That Deserve A Second Look.
Joe Osborn's career is the stuff of legend. After developing his chops on the Bossier Strip in the mid-1950's, recording with Dale Hawkins and touring with Bob Luman, Joe joined high school friend, James Burton, in 1960 to become a part of Ricky Nelson's band during Nelson's most productive "Ozzie and Harriet" years. This move to California resulted in Joe playing at the Whisky A' Go Go with Johnny Rivers and actively participating in the creation of all of Rivers' most famous recordings. He then moved into studio work in Los Angeles at the height of the 1960's Los Angeles music boom making a name for himself, as a member of the famous Wrecking Crew and the Hollywood Golden Trio (with drummer Hal Blaine and keyboardist Larry Knechtel), with his bass playing on over 300 top ten hits between 1960 and 1974 with The Mamas and the Papas, The Fifth Dimension, Glen Campbell, Simon and Garfunkel, Neil Diamond, The Association, The Grass Roots, and many, many more. His bass can also be heard on numerous film scores and television commercials cut in Los Angeles during that time. Joe is credited with discovering the Carpenters as a result of a recording session at his home studio. In 1974, he moved to Tennessee and immersed himself in the Nashville studio scene where he played on over 400 top ten country hits with the likes of Merle Haggard; Hank Williams, Jr.; Ricky Skaggs; Mickey Gilley; Neil Young; and many, many more. An inductee of the Louisiana Music Hall of Fame and the Musician's Hall of Fame in Nashville, Joe remains very active recording and often producing with such artists as Richard Carpenter, Matthew Davidson, and Steve.
Joe and Steve have enjoyed a wonderful musical affinity since they began playing together over seven years ago. After working together on Steve's recording projects, they have developed a duet that embraces traditional American music styles, as well as some of the tunes from the 1960's that Joe helped create. They have found that this duet is a wonderful vehicle for them to arrange songs they both love in a very intimate and soulful way, relying only on the musical conversation created by their two instruments and Steve's vocals.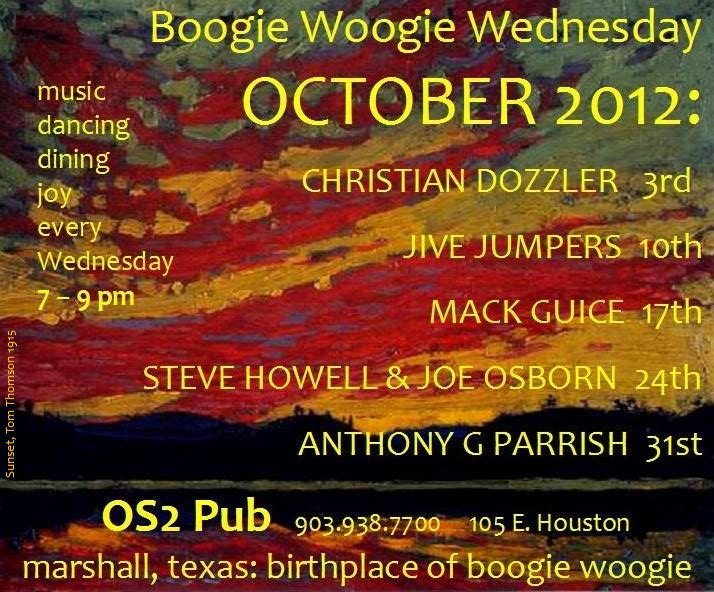 exciting video – the creator of this song, Clairy Browne (in Australia!) saw this video on youtube, posted it on her facebook page and said she loved it! Robin Beach Black, Stan Hoffman and Greg Craig, doing a smashing cover, without the benefit of a 10-piece band!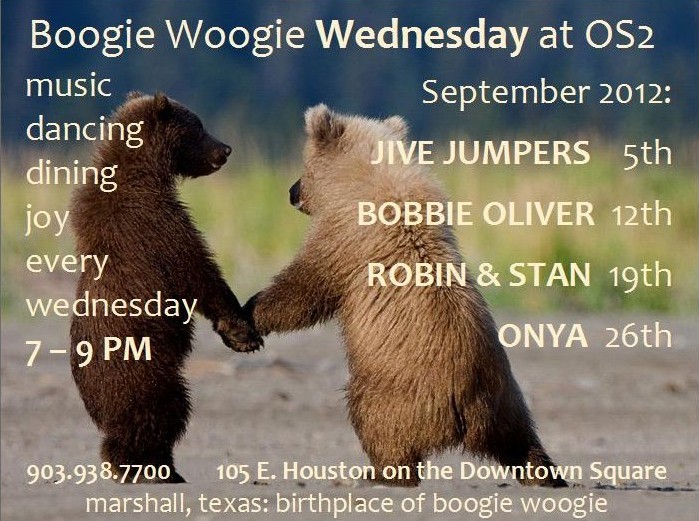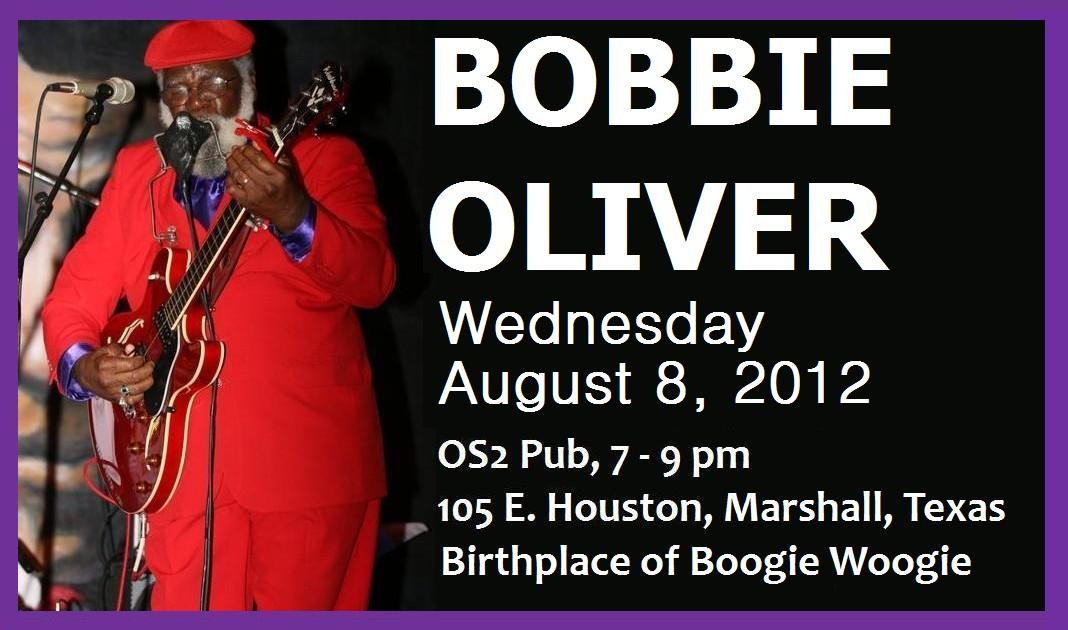 Wednesday, June 27 – Robin Beach Black & Stanton Hoffman at OS2
Wednesday, July 4th – FOURTH OF JULY AT CADDO LAKE – The Diddley Squat Blues Band will be playing at Johnson's Ranch, the famed boat landing in the City of Uncertain on mystical, magical Caddo Lake. Boat parade and truly spectacular fireworks every year.
Wednesday, July 11th – Bobbie Oliver at the OS2
Coming Wednesday, May 23, 2012: Anthony G Parrish Trio. They are wonderful. We call them The Sweetness.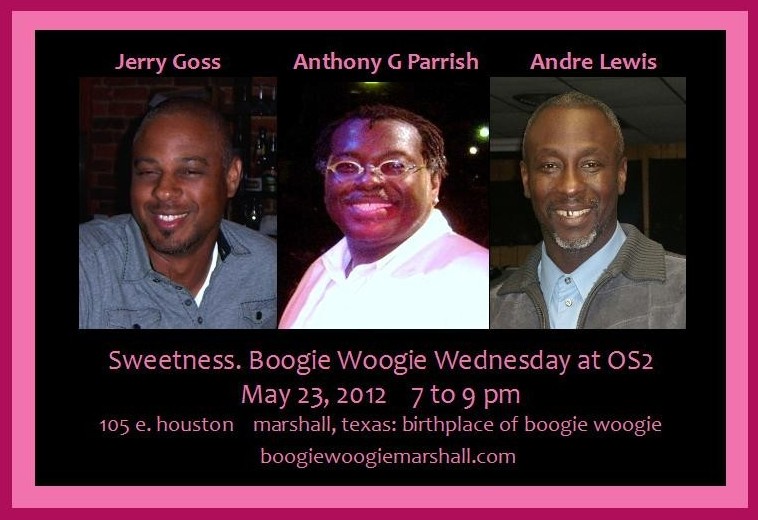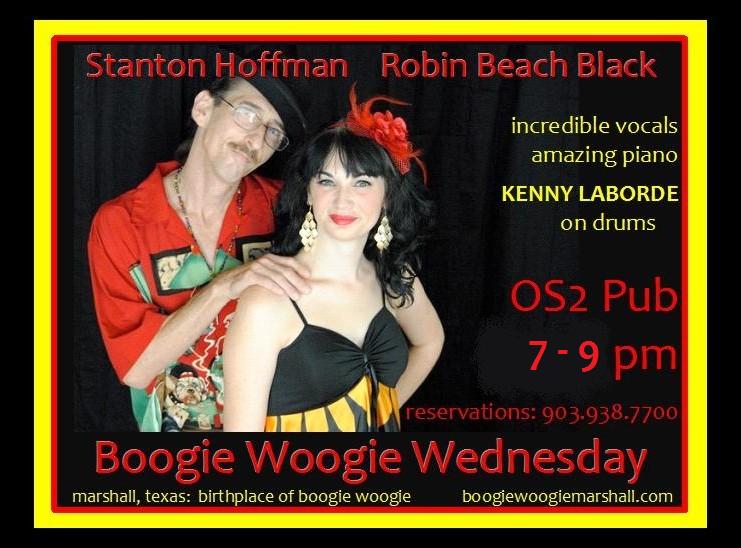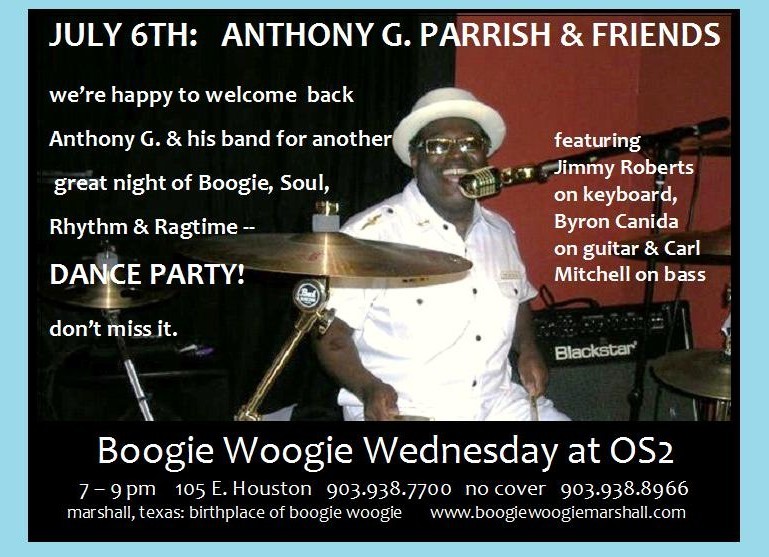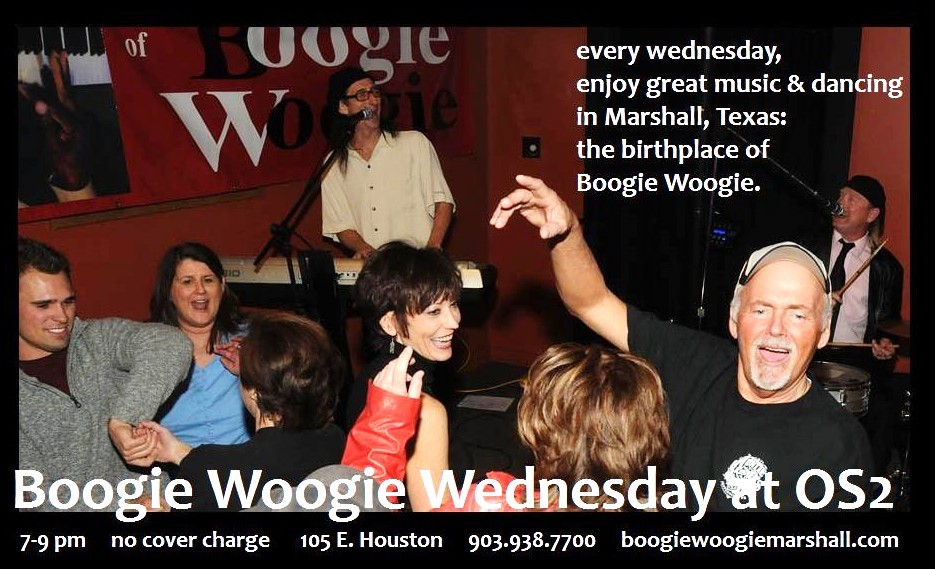 We started producing this Wednesday series in October, 2010, and it has become a wonderful weekly celebration in Marshall. The music and dancing is joyous, sometimes boogie woogie, sometimes just great dance music that shows a boogie woogie spirit. Boogie Woogie influenced all kinds of music -swing, blues, jazz, country, soul, pop and rock and roll, and we celebrate this every Wednesday. It's become the hottest night of the week at a lovely downtown restaurant called the OS2 – from 7 to 9 pm every wednesday – no cover charge – reservations are recommended at 903.938.7700
Amazing Blues vocal in this clip – Robin Beach Black, with brilliant keyboardist Stanton Hoffman – "I'd Rather Go Blind" –