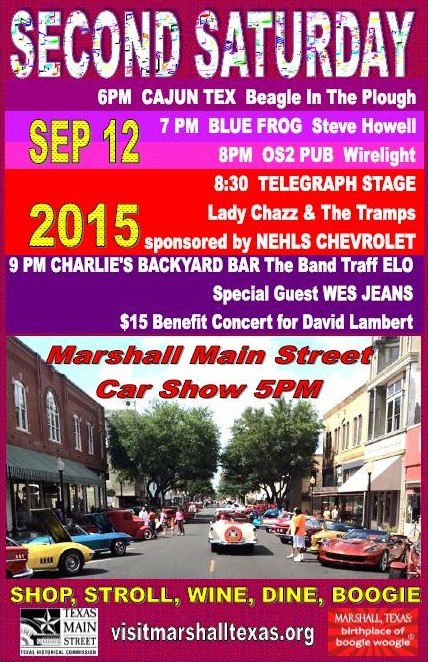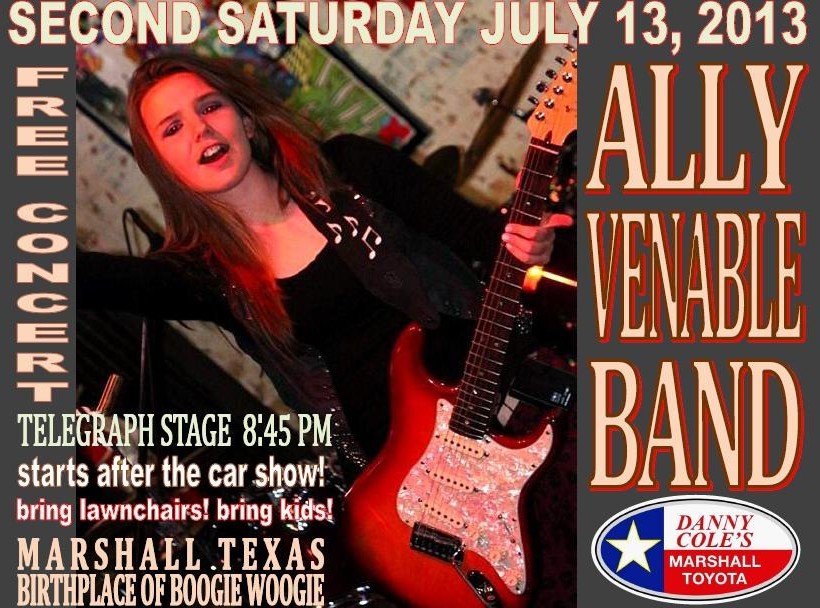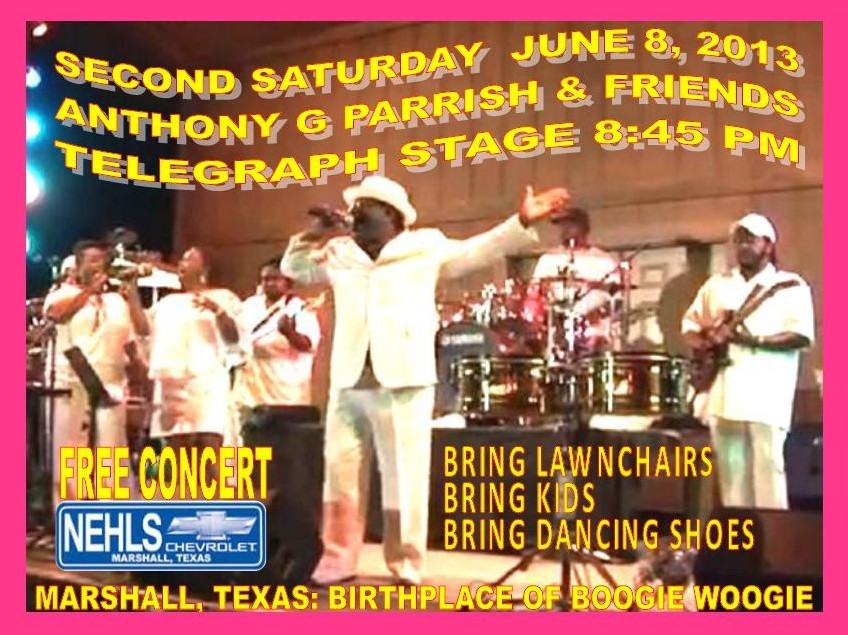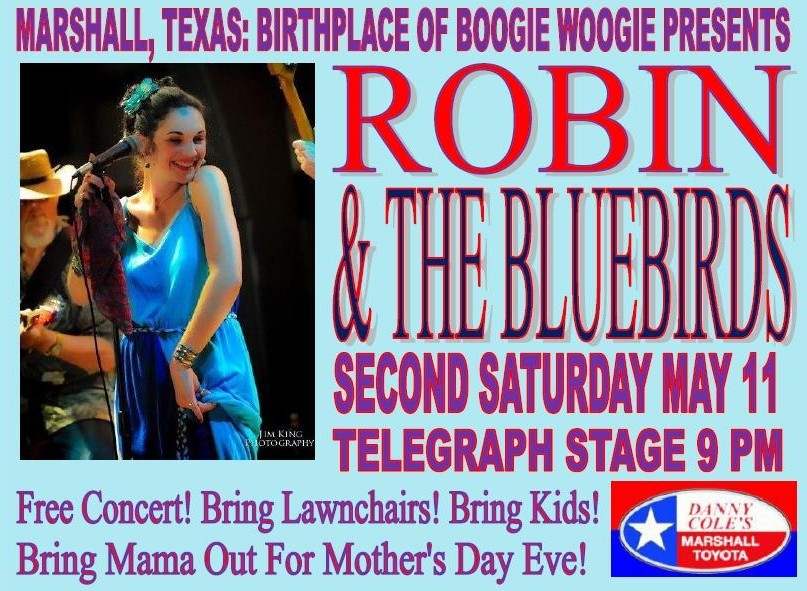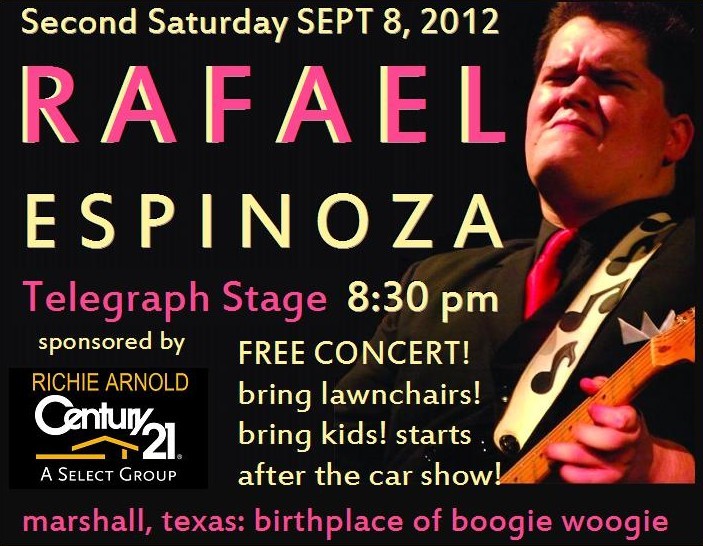 Coming August 11, 2012: Anthony G. Parrish & Friends! Special guest appearance by 9-yr-old singing sensation Josie Richards-Parrish.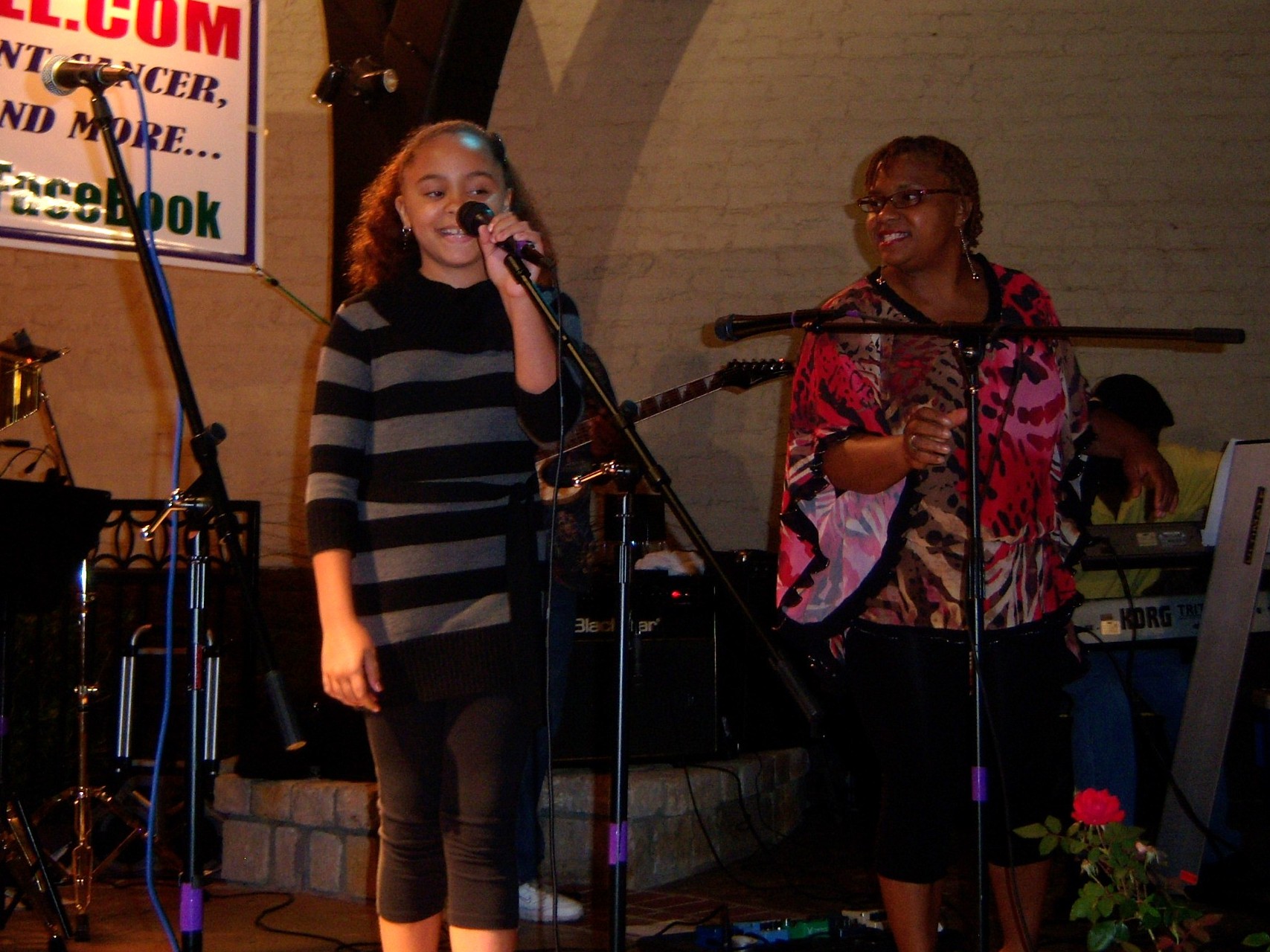 Second Saturday, July 14, 2012: fantastic farewell to the Good Time Rounders

some highlights from the June Second Saturday concert with Robin & The Bluebirds, featuring remarkable Robin Beach Black on "Hip-Shakin Mama", world class guitar solo by Jerry Beach, virtuoso Allen Webb on "Tighten Up."
COMING JUNE 9, 2012 – Robin & The Bluebirds. Beautiful vocalist, grammy-nominated songwriter/guitarist, a great setlist, a seven-piece band with the smoothest sax and a trumpet player like Miles Davis. They play blues, r&b, pop, rock, reggae, you name it. From Etta to Aretha to the Eagles and Van Morrison. Wonderful band on the Telegraph Stage, dancing in the streets, and it's free.
MAY 12th, 2012 – The fantastic Anthony G. Parrish Band. This is the band that rocked the house at the Tribute to Omar. See the video here! And See them Saturday night, 8:30 pm on the Telegraph Stage – free concert sponsored by Get Healthy Marshall!
COMING APRIL 14th – Blues Guitar Prodigy – 14-year-old Matthew Davidson, winner of the Robert Johnson Blues Foundation New Generation Award and a great, great kid!!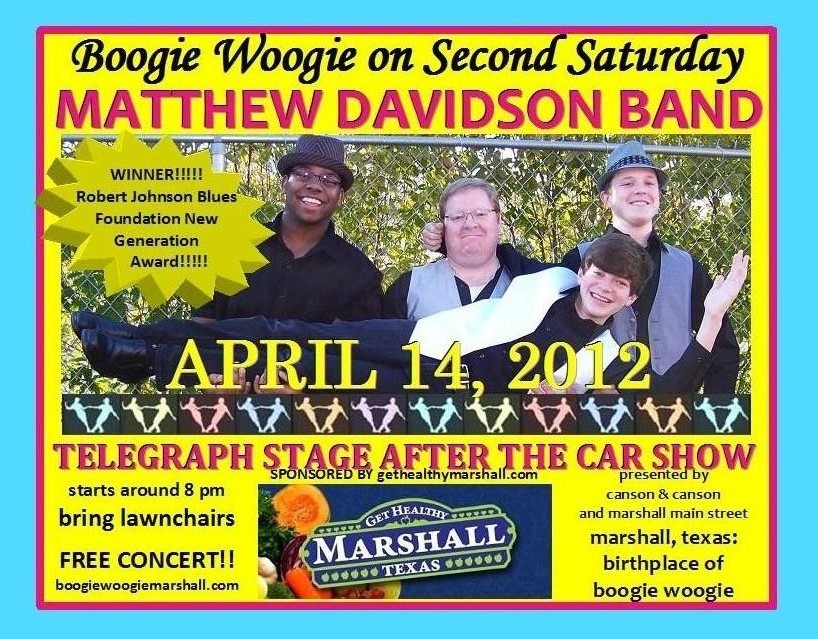 SECOND SATURDAY runs from March through November. Every month! See you  March 10, 2012, at the Telegraph Stage in Downtown Marshall.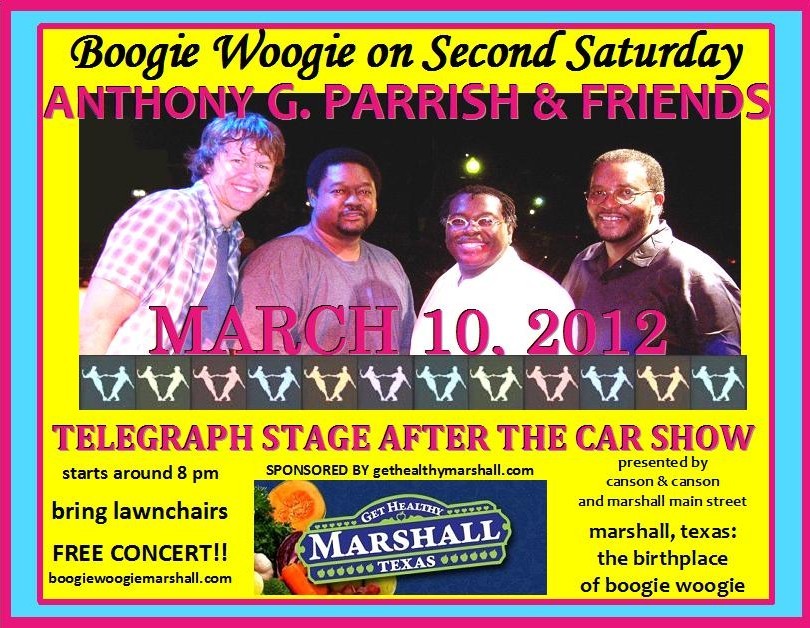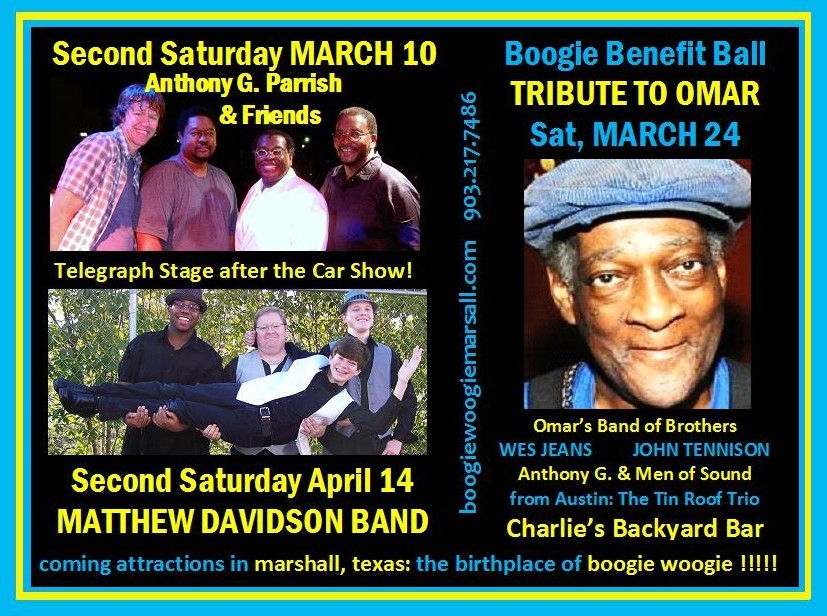 SATURDAY, NOV.12, 2011 – OMAR & WES – for the first time in a free concert on the Telegraph Stage, we present the veteran boogie woogie virtuoso Omar Sharriff and young rockin guitar star Wes Jeans. A triumph at the Fireant Ball – this encore performance came about with a lucky scheduling fluke that happened to fall on just the right Saturday – Second Saturday in Marshall – "Let's Have A Party" !! Concert starts around 8:30, after the car show.
COMING SATURDAY. SEPT 10, 2011 9 pm on the Telegraph Stage – THE ANTHONY G. PARRISH BAND – back by popular demand. This band drew 1500 people to our July concert – thrilled to have them back for more soul, motown, funk and boogie. Sponsored by MARSHALL TOYOTA. Great fun. Dancing in the street. Free admission. Bring lawnchairs.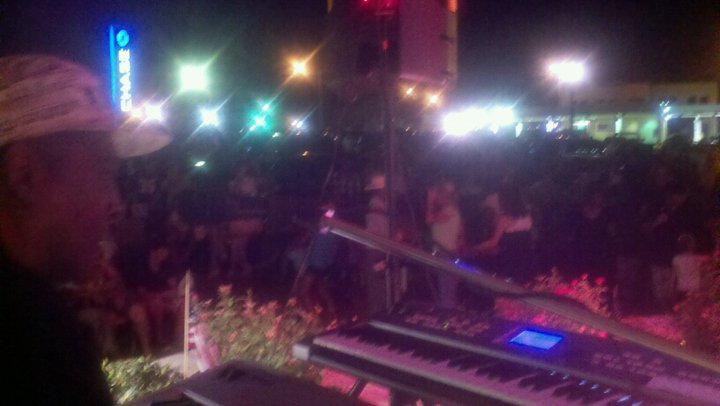 COMING SATURDAY AUGUST 13,  2011, 9 pm on the Telegraph Stage – THE FREDDIE ROBINSON BAND and SPECIAL GUEST STAR OMAR SHARRIFF. Guitarist/vocalist Freddie Robinson, a favorite at Shreveport's Red River Revel, Holiday in Dixie, and all around the Arklatex, leads a great band playing boogie, soul, motown fun and conga drums.  Dancing in the street. Special guest star Omar Sharriff will sit in with Freddie and the band. Sponsored by Get Healthy Marshall at gethealthymarshall.com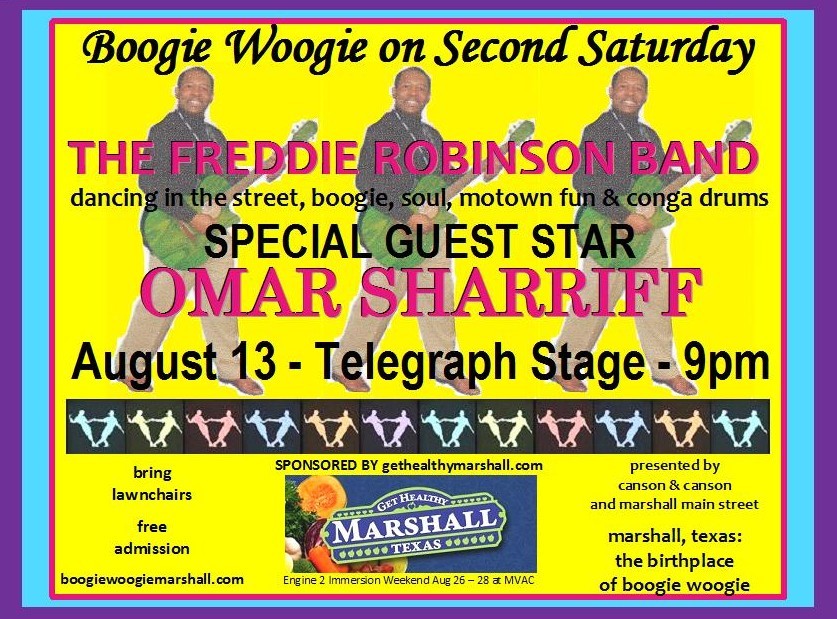 SATURDAY JULY 9th, 2011  – 8:30 PM on the Telegraph Stage – Downtown MarshallANTHONY G. PARRISH & FRIENDS – a great dance band – boogie, r&b, funk and soul. Ever since they performed at our Wednesday series, people have asked us to bring Anthony and his band back. Glad to present them on a Saturday night. Omar Sharriff attended their last performance, enjoyed them very much and sat in with them – we hope he will do so again this Saturday. See video here of Anthony G. & bandmembers Jimmy Roberts, Byron Canida and Carl Mitchell at Boogie Wednesday: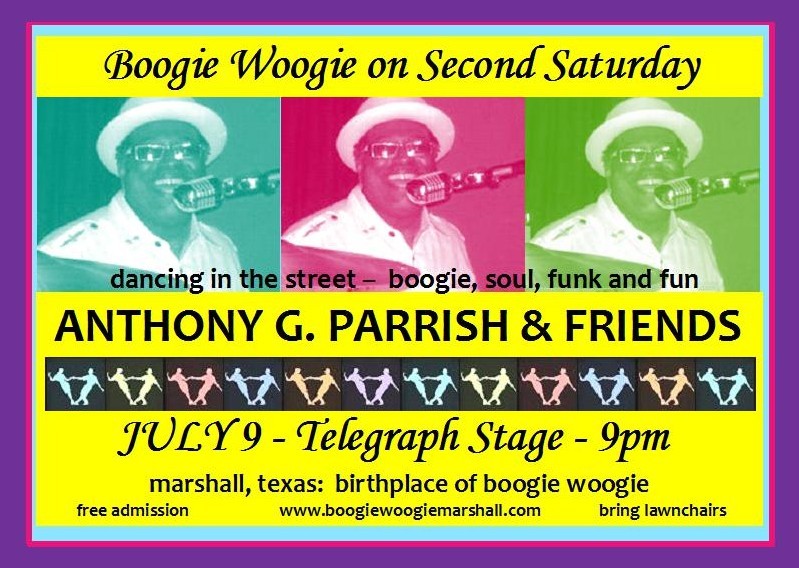 Video from the June Second Saturday: Stanton Hoffman & Billy J Morris –