Fireant Festival is always Second Saturday in October. That's October 12, 2013. Save the date! It's a marvelous time to visit Marshall, with perfect fall weather, and Marshall's oldest, most charming, family-friendly, big-fun festival. The Chamber of Commerce and scores of volunteers from their membership will host the 31st Fireant Festival. Our Boogie Woogie program will present fantastic music in the streets! Stay tuned for the line-up and enjoy some pics and videos below from previous festivals: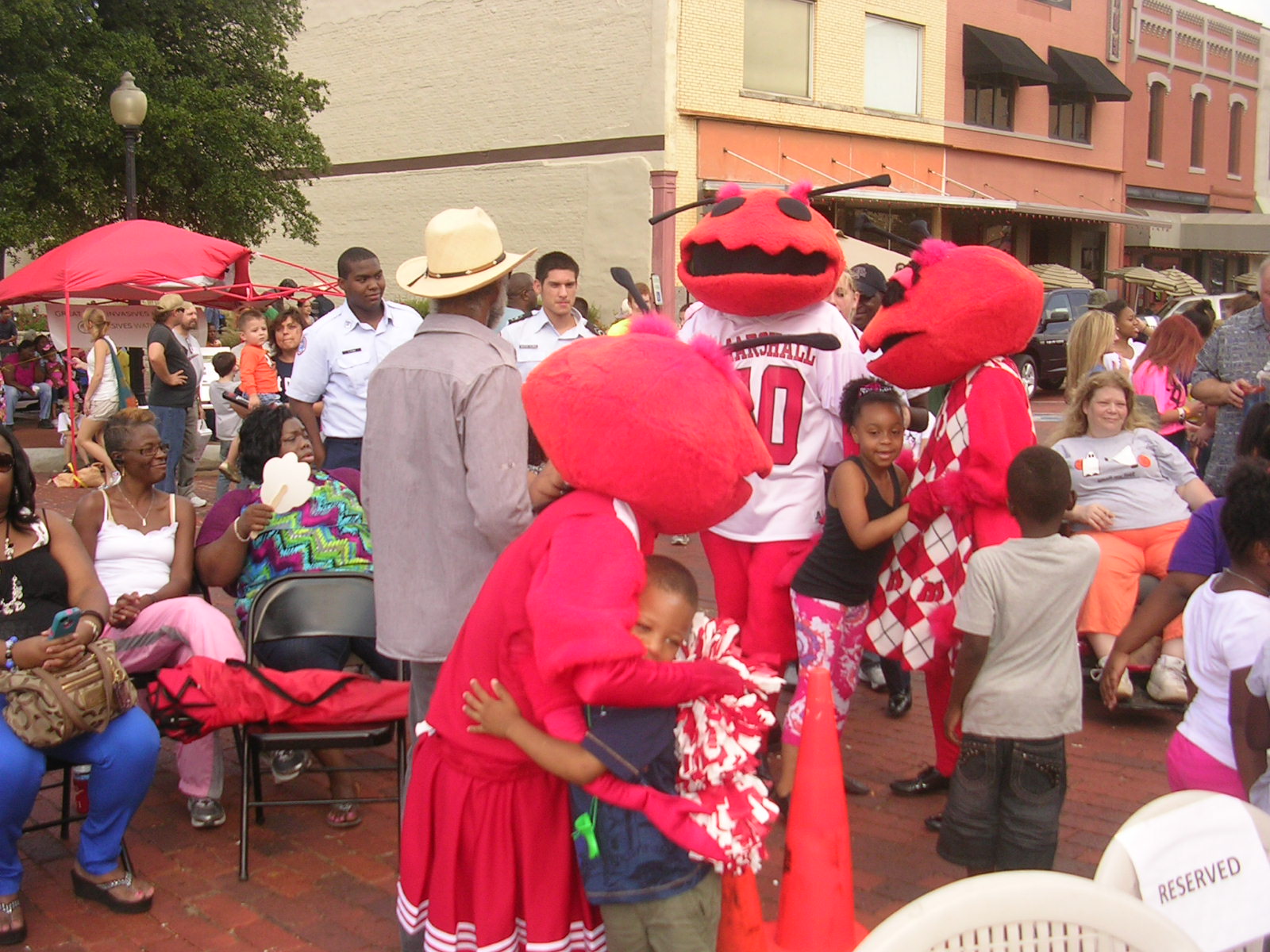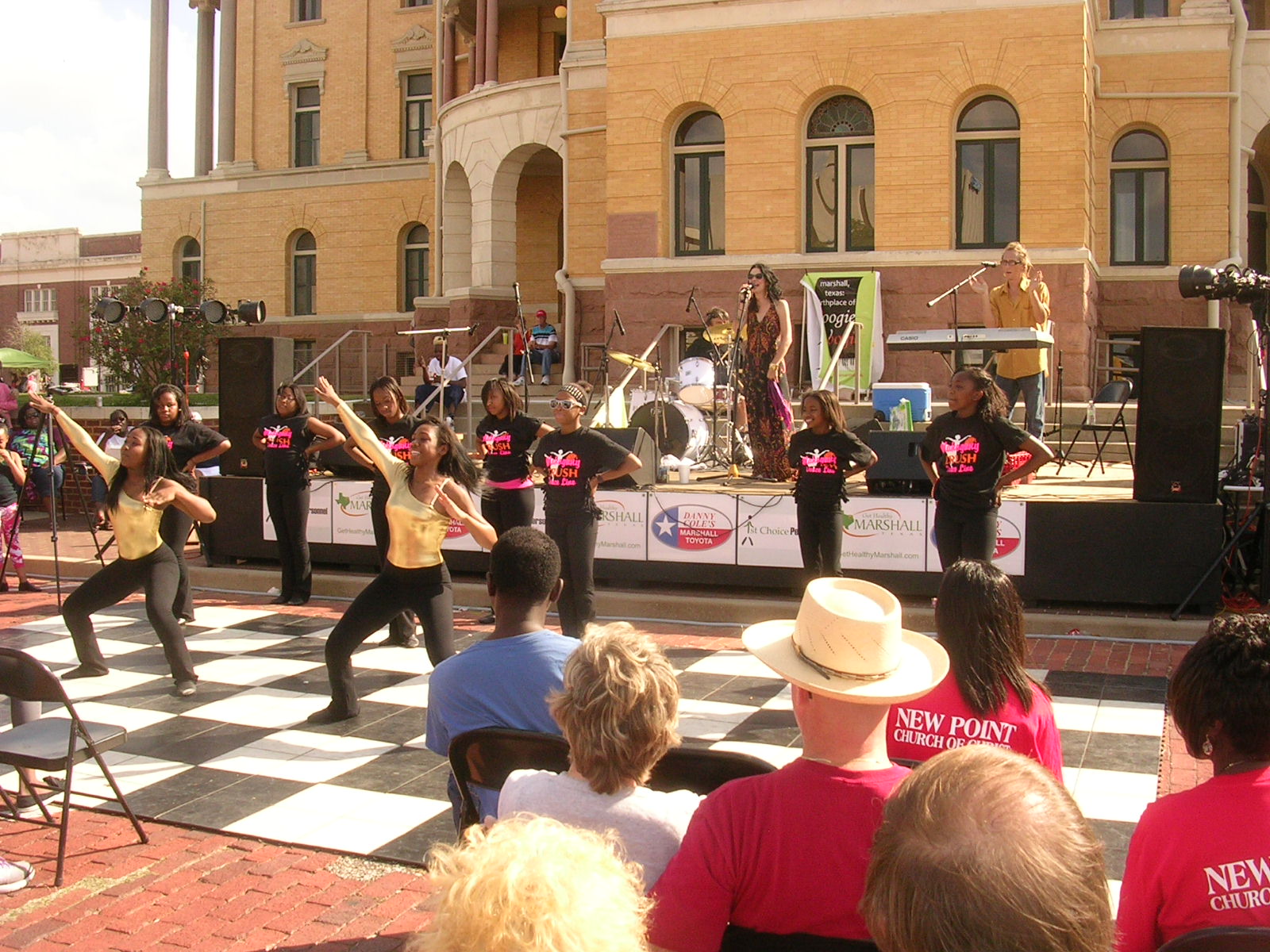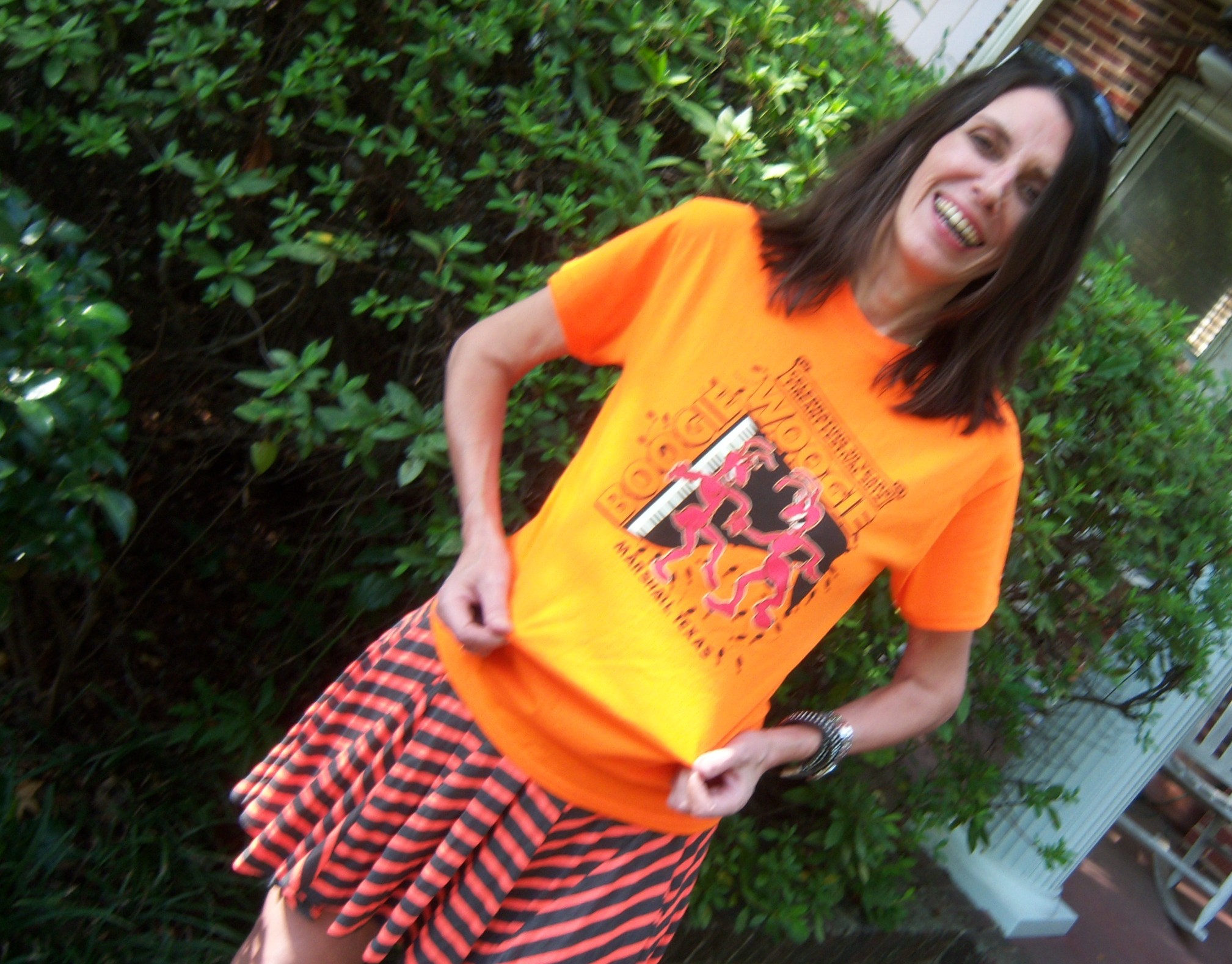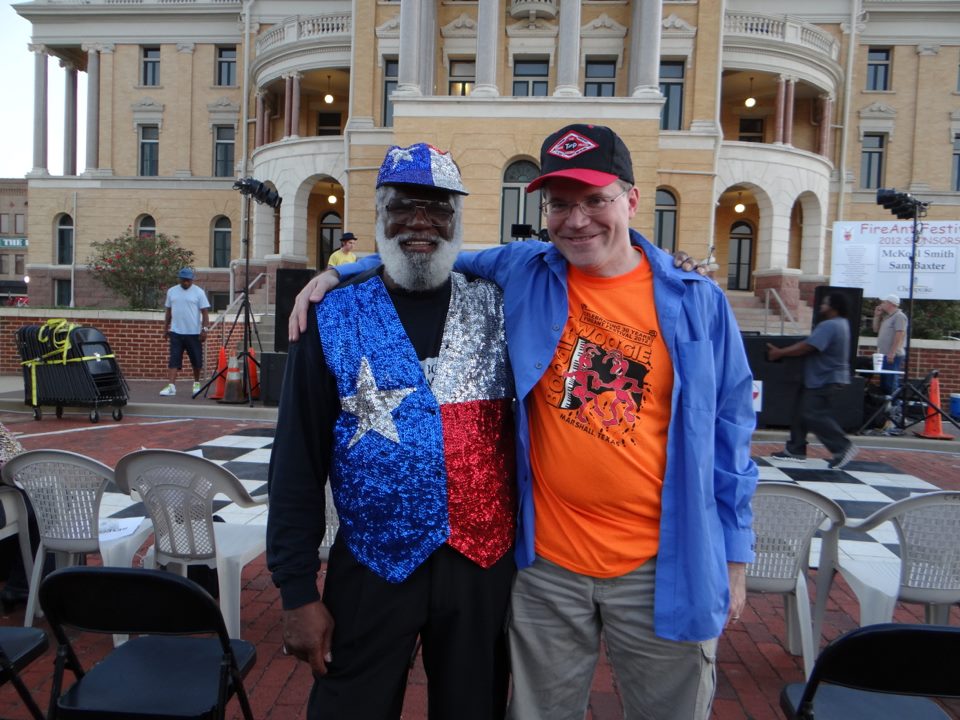 THE  BOOGIE WOOGIE FIREANT FESTIVAL – OCTOBER 12 & 13, 2012
Our Fireant Festival celebrates its 30th anniversary in Marshall this year. For vendor space, contact Connie Fugler at the Chamber of Commerce cfugler@hotmail.com 903.935.7868
Performance Schedule:
Friday Night: John Tennison & Bobbie Oliver 7:30 pm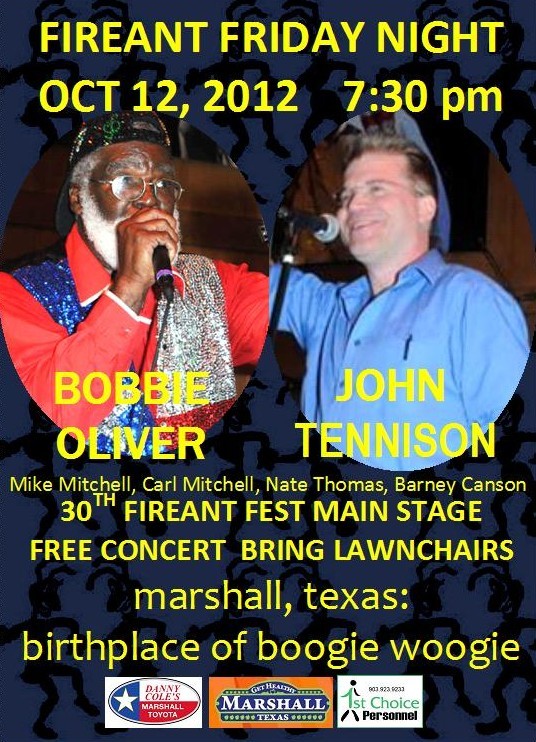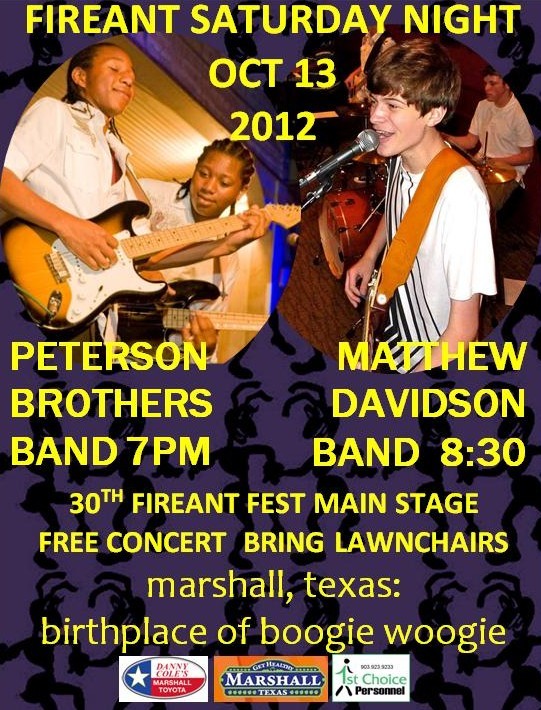 Saturday Noon: Dance performances
KIDS DANCE CONTEST
1 pm: Anthony G Parrish & Friends
2:30: Robin & Stan
4:15: Airheart
7 pm: Peterson Brothers
8:30: Matthew Davidson Band
This video shows some of the great fun with Robin & The Bluebirds at last year's festival.
Below are images from the 2011 Fireant Festival and other big events in Marshall.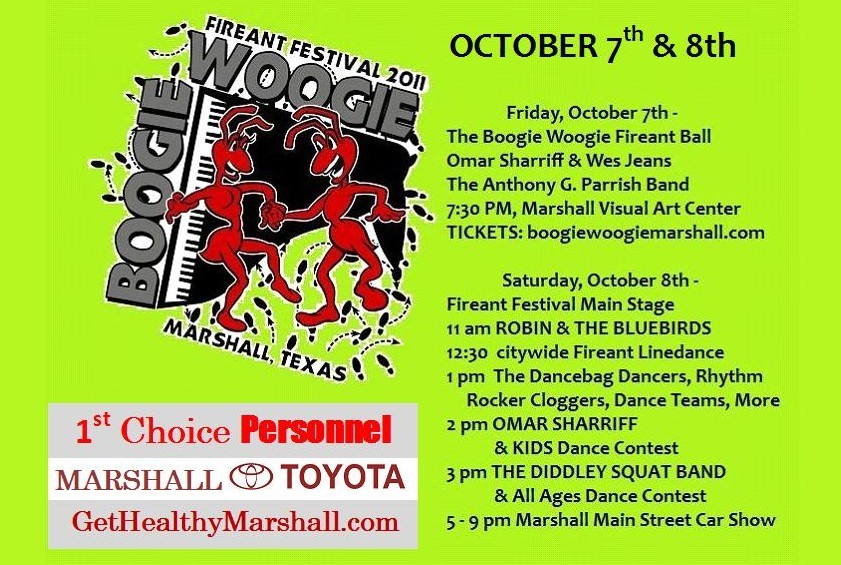 The Saturday entertainment is free! The Children's area opens at 10 am with activities all day. The Fireant Parade is at 10 am. LIVE MUSIC begins Saturday at 11 AM with Robin & The Bluebirds, featuring vocalist Robin Beach Black and keyboardist Stanton Hoffman (stars of our Wednesday series), guitarist Jerry Beach (writer of the Albert King classic Grammy-nominated song "I'll Play The Blues For You") Bruce Flett on bass, Drummer Zeke Seighman and trumpet master Dirty Red Crenshaw.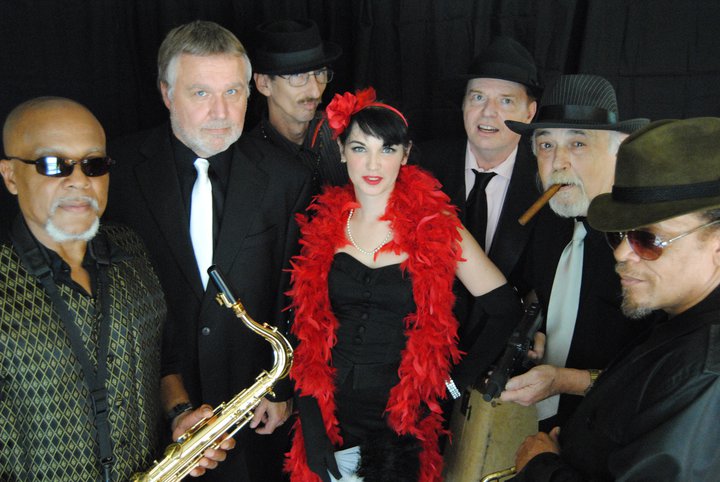 The citywide Fireant Line Dance is at 12:30 pm.  The KIDS Dance Contest is a main attraction – starts at 2pm. All-age Dance Contest is at 3 pm. The Live Music continues with The fabulous upbeat swingin blues of the Diddley Squat Blues Band, a special appearance by Omar Sharriff and more. There will be dancers, cloggers, fireant callers, and contests all day. Vendors of course and arts and crafts will line the downtown square and the Marshall Main Street Car Show is from 5 to 9 pm.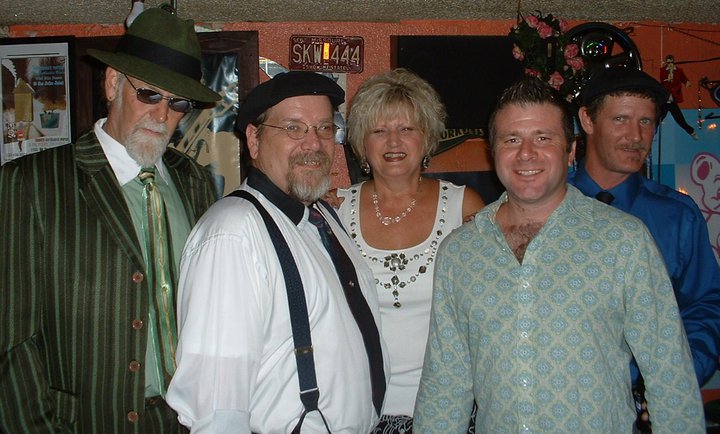 This is an event for adults and children. The children's festivities include a Boogie Woogie Dance Contest. Some pics from last year –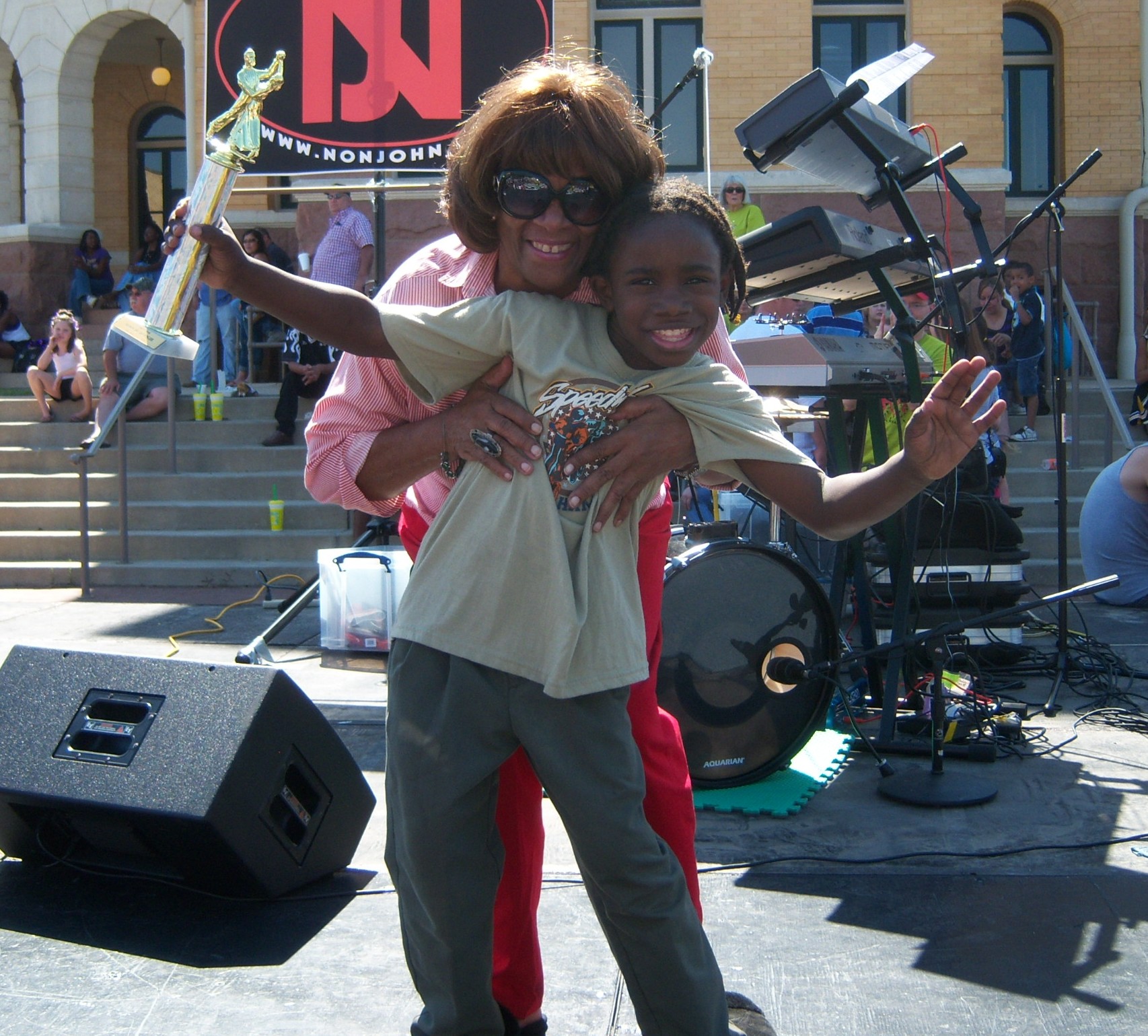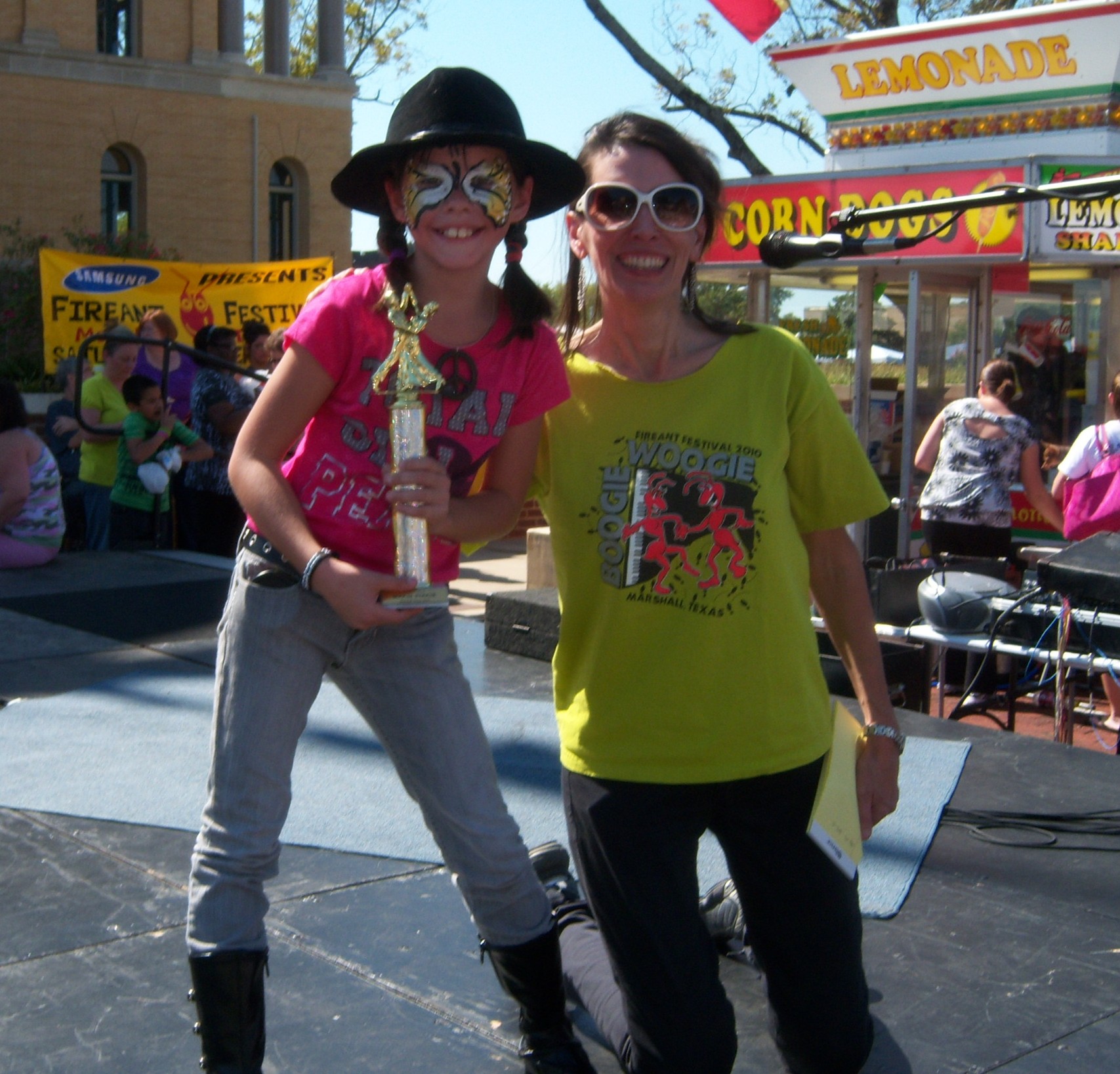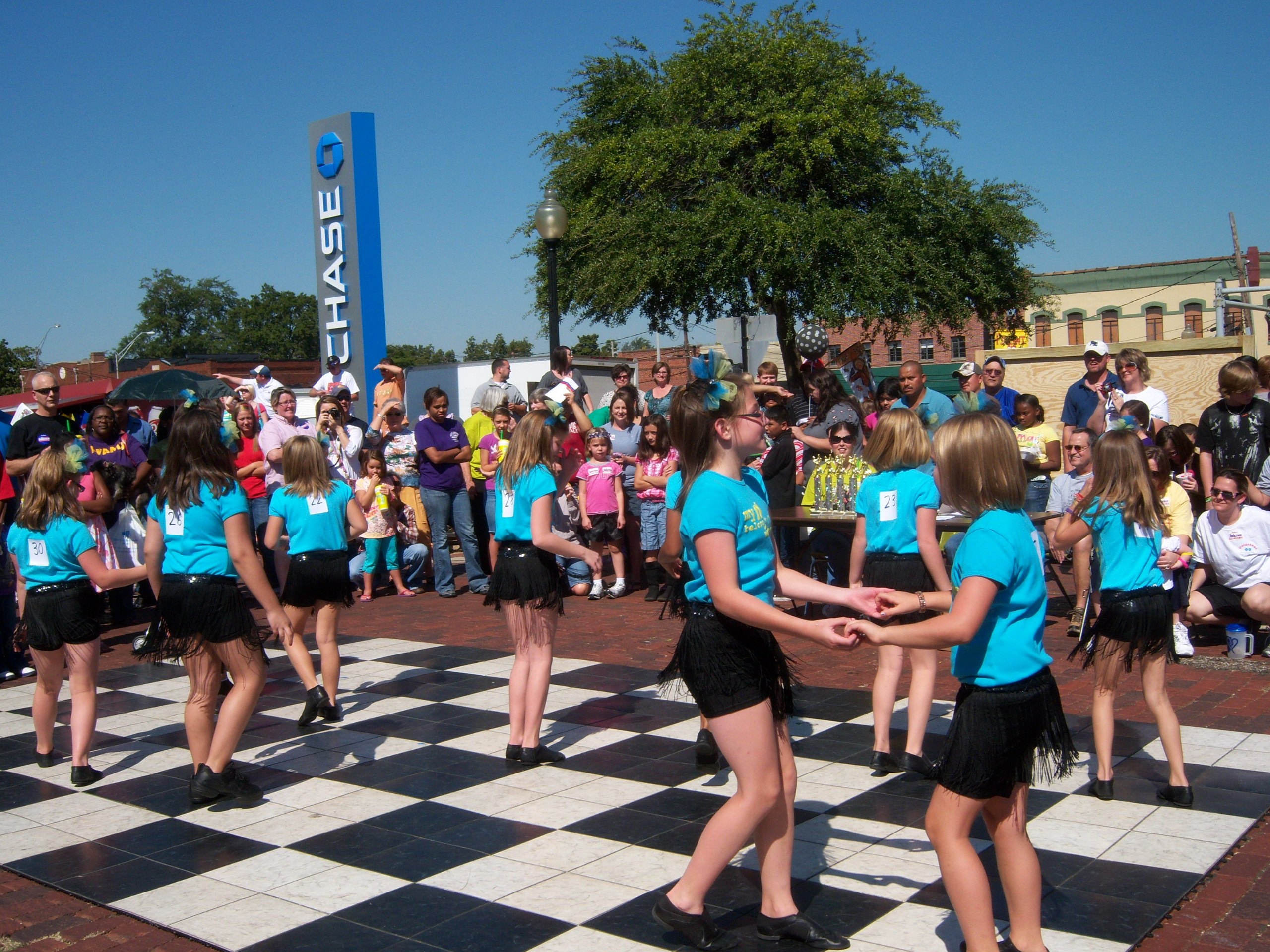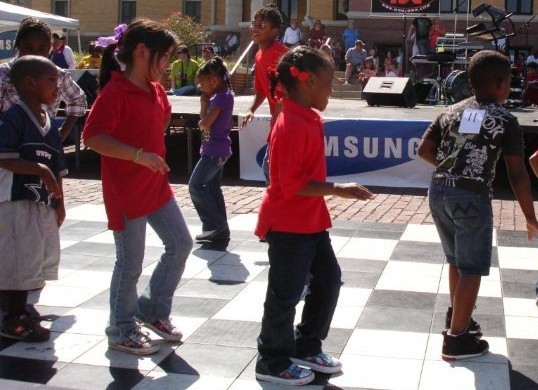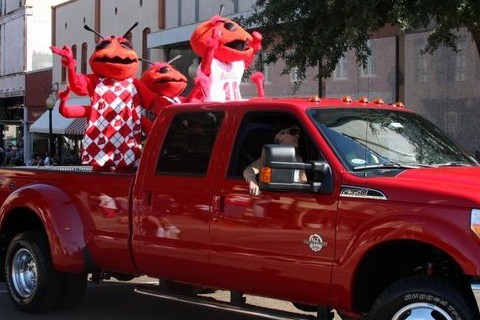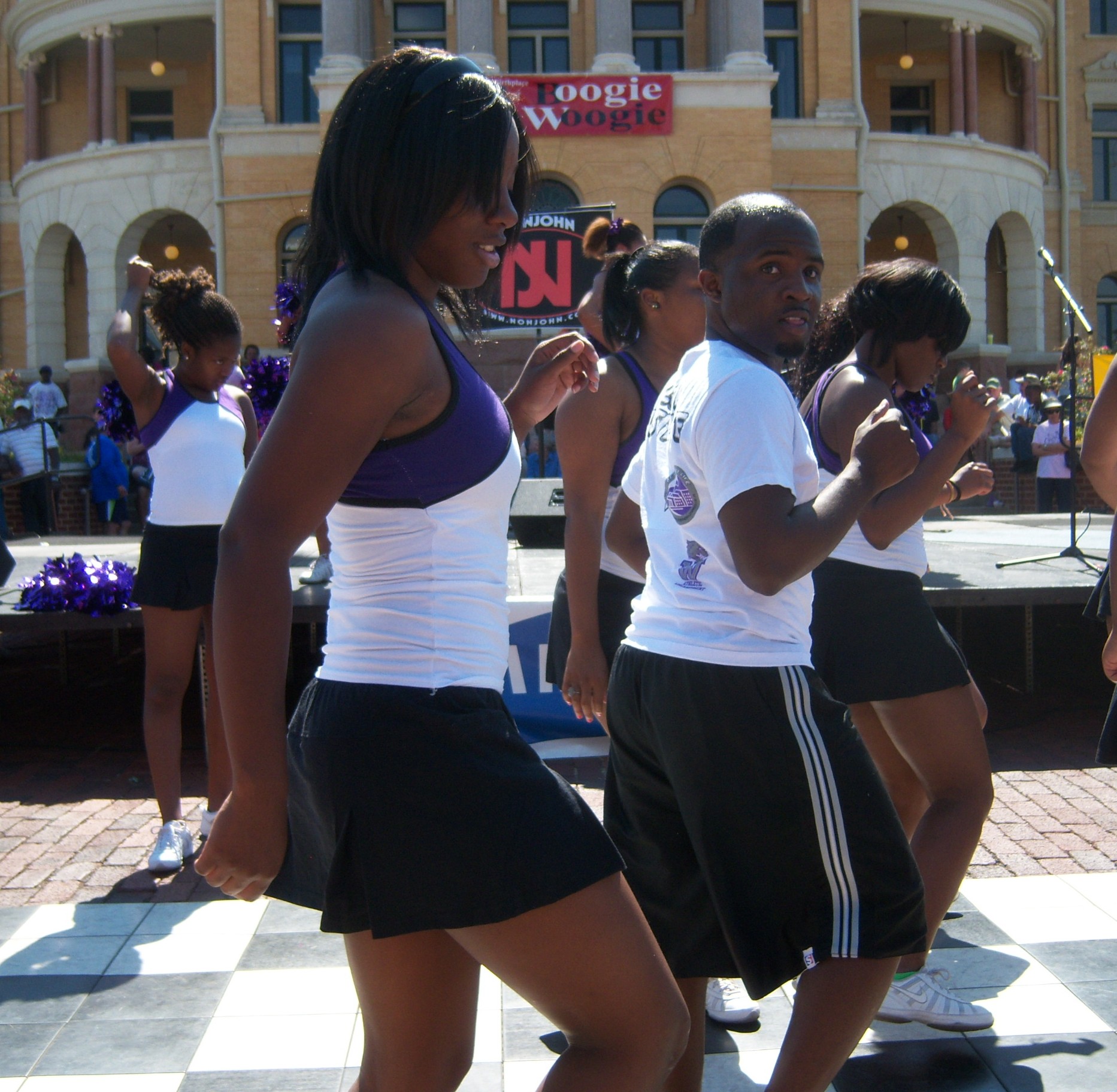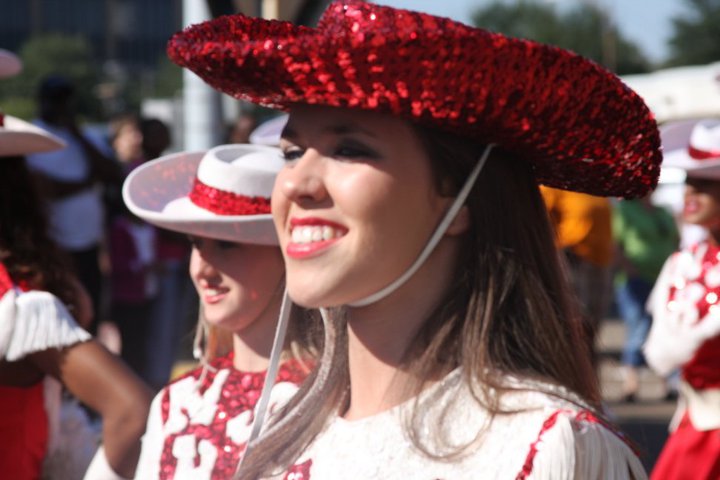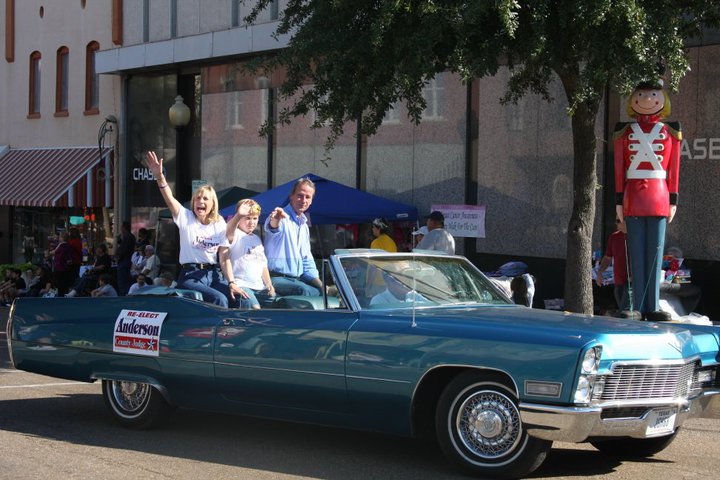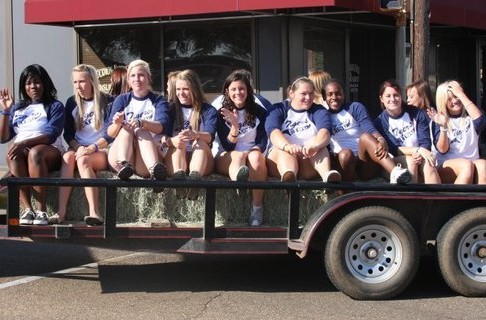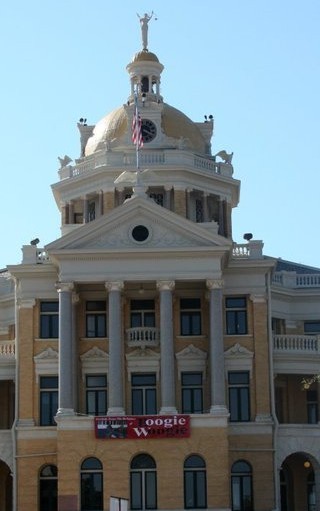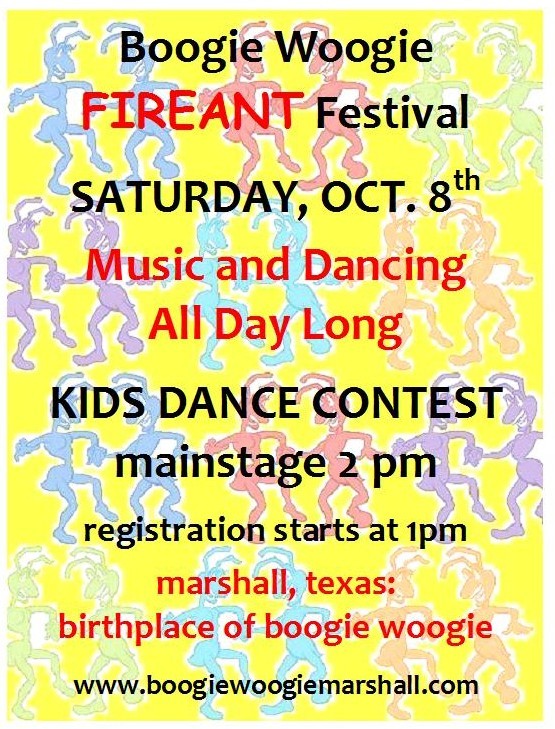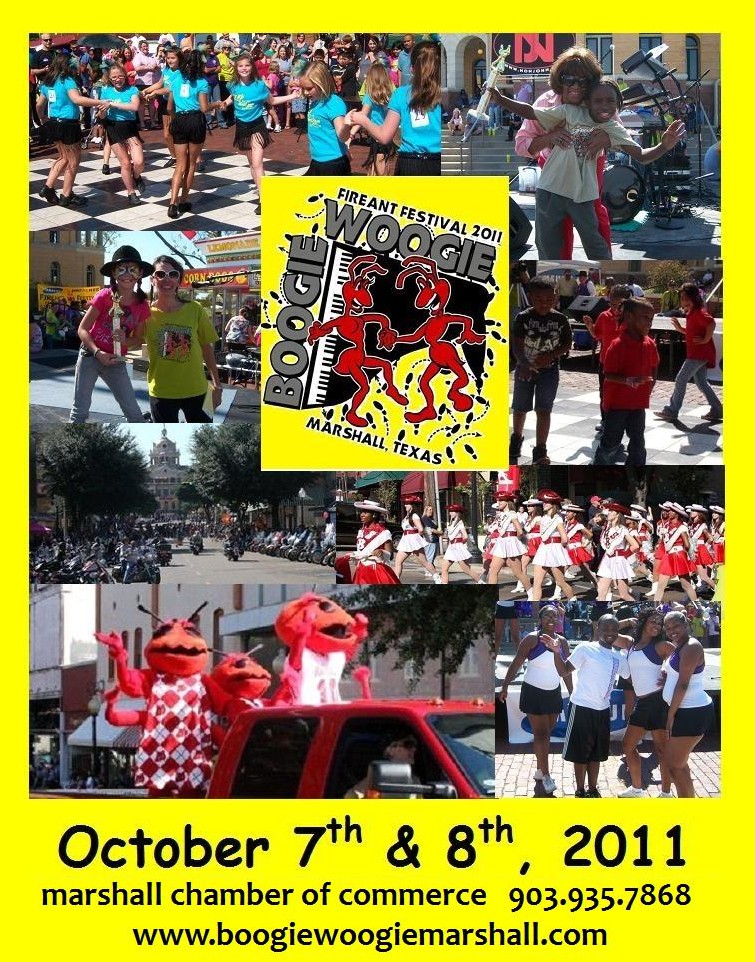 More Fireant Festival Photos Here!!

THE BOOGIE WOOGIE CHRISTMAS CONCERT – coming Dec. 10, 2011
The 2010 Christmas Concert starred the sensational Bob Seeley & Bob Baldori, along with the magnificent Omar Sharriff.  See Seeley and Baldori in action here! And stay tuned for details on the 2011 Boogie Woogie Christmas.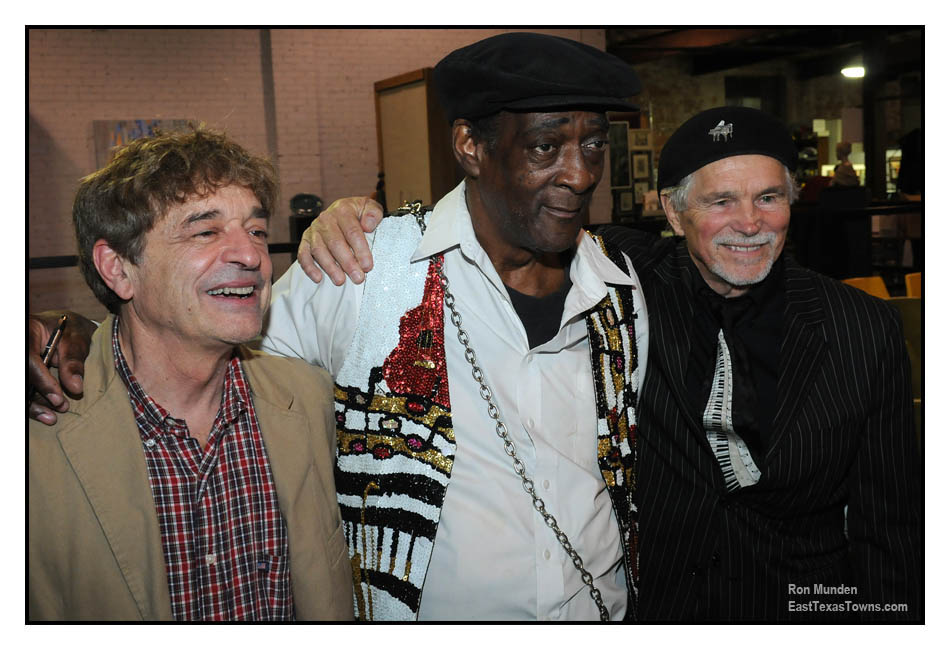 THE BOOGIE WOOGIE BALL
The Boogie Woogie Ball to Benefit Marshall Main Street was held March 12, 2011 at the Marshall Grand, formerly The Hotel Marshall. It was a fantastic night with three great bands, an incredible turnout, wonderful dancing, and thrilling performances. See Omar performing with Rodney Beal and Val Nail here.
and video of soul man Billy J Morris is here.